Link pay to pupil progress, over half of teachers polled say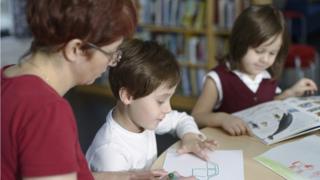 Over half of teachers in state schools in England support linking pay to pupils' progress and results, suggests a survey.
The National Foundation for Educational Research polled over 1,000 teachers for the charity Sutton Trust.
Some 55% of primary teachers and 52% of secondary teachers said incremental pay rises should depend at least in part on performance.
But almost half favoured the old system of linking pay to length of service.
From September the government will require schools to link pay progression, for teachers in the first five years of their career, to classroom performance.
Pay rewards
Until now, these teachers have had a yearly incremental rise.
The change has contributed to a series of strikes over pay, pensions and workload by the two largest teaching unions.
The survey asked teachers to rate methods of determining performance:
60% backed assessment by more senior staff
54% wanted to be assessed by the head teacher
53% said pay should depend on their current pupils' progress and results
49% of primary teachers and 44% of secondary teachers said pay rises should be linked to length of service
37% of teachers said their own self-assessment should be included
14% of secondary teachers said pupils' evaluation of their teachers should also be a factor
A Department for Education spokeswoman said the survey was evidence of "strong support from teachers across England for our plans to let schools pay good teachers more".
"From this September schools will be able to reward the most effective teachers who get the best out of their pupils with higher pay," she said.
"We already have the best generation of teachers ever, and the changes that we are making to teachers' pay arrangements will further raise the status of the profession and encourage more great people into teaching."
But Christine Blower, general secretary of the National Union of Teachers, said: "Despite the spin, this research proves again that teachers oppose the government's new performance-related pay measures.
"Historically movement up the pay scale was linked to seniority and increasing professional skills and competence.
"It is hardly surprising, therefore, that teachers continue to favour the previous system, which is transparently fairer and less open to biased judgements.
"While effective appraisal linked to professional development is useful, provided it encourages collaboration, this will not be achieved by the new pay system".
Academics said evidence from the US, where teachers receive bonuses depending on their pupils' progress, was unclear.
Muddled incentives
Prof Steven Higgins, of Durham University's School of Education, said: "The evidence is not convincing that linking teacher pay to the performance of their pupils is effective in improving learning outcomes, either in the short, medium or long term.
"Attracting the best teachers and retaining them, for which pay may be a significant component, is more important than rewarding teachers on the basis of their pupils' recent test scores or their observed lesson performance."
Prof Higgins also said research suggested observing lessons is "not a reliable way of identifying teacher effectiveness, so any system which relies only on observation or test scores or even a combination is likely to be flawed".
However Richard Murphy, a researcher at the LSE's Centre for the Economics of Education, said evidence suggested "a teacher who is consistently raising the test scores of pupils is much more likely to be a highly effective teacher".
Gabriel Sahlgren, director of research at the Centre for Market Reform of Education, said performance-related pay systems had to be well designed to be effective.
"Programmes that muddle incentives fail", said Mr Sahlgren.
"For example, the evidence supports systems based on the principle where teachers receive bonuses in advance, but commit to repaying them if their pupils don't meet progress targets."