Oxford to stay within NUS after vote-rig probe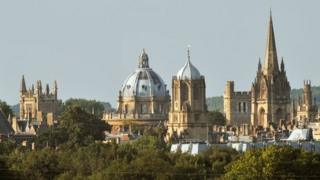 Oxford University Student Union (OUSU) is likely to remain affiliated to the National Union of Students after allegations of vote rigging in last month's referendum.
Students had voted narrowly to leave the NUS in an online ballot.
But the result was voided after it emerged nearly 1,000 invalid votes had been cast against staying in the NUS.
The OUSU student council will meet "soon" to debate a motion to remain affiliated in light of the revelations.
When votes were first counted, it appeared that 51% of the votes cast had been for the 'No' campaign, against remaining affiliated to the NUS, while 49% had been for the campaign to stay as part of the national union.
'Spare codes'
It appeared that Oxford students had voted to leave the NUS, by a narrow margin of only 128 votes.
But the leader of the 'No' campaign, Jack Matthews, noticed nearly 1,000 of his side's votes had been cast using "spare" voter codes, which suggested they may have been faked.
"My suspicions were first raised at the count where I observed that significantly more voter codes had been issued than was necessary," said Mr Matthews in a statement.
"I was also surprised by the larger than expected turnout, both overall, and for 'No'.
"It became clear that there were serious irregularities in the votes cast, specifically that large clusters of 'No' votes appeared to have been cast at the same time and from the same location."
A student panel, formed to hear the complaint, decided to void the result.
The 'No' campaign had received a total of 1,780 votes. And once the invalid votes were removed, it emerged Oxford students had voted by a margin of nearly two to one to remain affiliated to the NUS.
In a statement, the NUS said: "It is always disappointing to hear of allegations of electoral malpractice, but we congratulate those at OUSU on the swift action they took to ensure they were investigated.
"We are delighted that if the invalid votes had not been included in the final tally, the results would have shown an overwhelming majority of students in favour of remaining affiliated to NUS.
"We hope very much hope to continue working with OUSU for the benefit of students in the future."