Practical education 'needs more focus'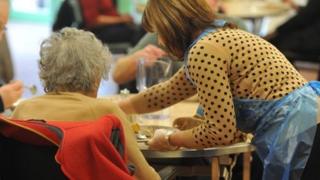 Too much attention has been paid to increasing the number of young people gaining a degree, a report claims.
A paper by the Institute for Public Policy Research says Britain's economy will be unable to compete globally if vocational education is not improved.
Over the next decade, a large number of jobs will be in industries that rely on vocational - or practical - education and qualifications, the IPPR says.
Ministers said they were reforming vocational courses to ensure rigour.
The IPPR report suggests, over the next 10 years, just over a third of all jobs created will be in high-skilled occupations, requiring a high level of qualification, such as a degree, while the rest will be in medium and low-skilled areas.
By 2022, there will be an additional 3.6 million jobs in medium-skilled occupations - this figure includes "associate professional" jobs in healthcare, skilled trades and public services, it says.
All these industries employ large numbers of people with vocational qualifications equivalent to A-level or above or with apprenticeships.
'Mismatch'
The study also suggests that in some sectors there is a "mismatch" between the skills and qualifications needed by businesses and those held by workers - almost two-fifths (39%) of openings in skilled trades are due to skills shortages, with shortages emerging in areas such as health and care work.
"In their desire to 'win the global race', policymakers have focused on increasing the number of graduates in the economy. However, winning the race will require more than simply expanding general higher education," the IPPR says.
"Britain also needs stronger and better quality vocational education, coupled with new business models that make better use of workforce skills and enable companies to move up the value chain.
"This will require employers to engage in a more meaningful way in vocational education and skills development.
"Without action in these areas, our economy will not be equipped to compete successfully on the global stage."
Polarised labour market
The IPPR concludes that in the last 30 years, it has become widely accepted that the labour market has become polarised, with high-skilled jobs at the top and low-skilled jobs at the bottom.
It suggests this is largely down to advances in technology and global competition which have cut the number of middle-income jobs available.
These changes in the job market have come at a time when increased focus on university study is creating more high-skilled jobs, the report says.
"This has led to a focus by successive governments on expanding higher education, with relatively little attention paid to vocational education and training, or the way that firms demand and use skills in the workplace," it says.
"A recent example of this tunnel vision is the decision by the government to remove the cap on student numbers, with the express intention of attracting more young people into full-time undergraduate degree courses, while at the same time it is cutting funding for further education and presiding over a reduction in the number of young people going into apprenticeships."
'High quality'
The report was commissioned by the Edge Foundation to mark Vocational Qualifications Day 2014.
Edge chief executive Jan Hodges said: "This research clearly demonstrates that we must continue to support high quality vocational education if we are to meet the needs of our future economy.
"Education that combines rigorous academic teaching with a more practical and technical element - as we are seeing at university technical colleges, career colleges and studio schools - is a good example of how we can address the future skills issue."
Skills and Enterprise Minister Matthew Hancock said: "VQ day is about celebrating the ways in which high-quality vocational education and training, in all its forms, benefits learners, employers and the economy as a whole.
"We are reforming vocational qualifications to make sure they are rigorous and responsive to employers' needs, to ensure all students get a valued qualification."