'Trojan Horse' storm breaking over Birmingham's schools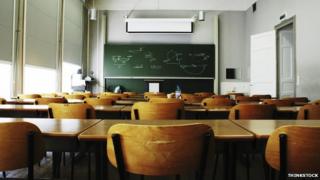 The storm is breaking over Birmingham's schools.
Officials now expect Ofsted, the education inspectorate, to put some of the city's schools into "special measures" - changing their leadership - after it ordered fresh inspections into 21 of them.
This process - one of four investigations - follows the publication of the so-called Trojan Horse document.
This was a letter, now widely assumed to be a forgery, claiming to detail a plot by Muslim conservatives to Islamicise secular state schools.
The Ofsted reports will be released soon, but probably not this week.
We know that 16 schools were given only brief inspections (so-called "section 8s" in the jargon) and five schools were given full-blown inspections ("section 5s").
The schools that received full inspections are expected to go into "special measures", meaning there will be a change in the school's leadership.
This will be most spectacular at Park View and Oldknow, academies that were rated as "outstanding" in 2012 and 2013 respectively.
Socially conservative
The other two schools taken over by the Park View Educational Trust will follow them. Park View has previously rejected the allegations of extremism that it faces.
Some schools who got a section 8 will also be given a hard time.
There might be further consequences when the Department for Education publishes its report on the issue.
For Ofsted, the issue in these schools is that they are socially conservative, perhaps too much so for schools that are not designated faith schools, and some have odd management practices.
The effect, Ofsted fears, is to create an atmosphere where extremism might flourish.
Newsnight has previously covered some examples of what that can look like.
Clique of governors
The Ofsted results also support the notion that this is really about a clique of governors.
The leaders of four of the schools expected to go into special measures are good friends, who speak a lot via WhatsApp, the mobile messaging app.
The idea that there is no wider conspiracy has support: people working in counter-extremism in Birmingham also do not think there is an acute broader problem in the city.
So this chapter of the story may be closing.
But there is a big structural issue worth considering: why do so many of the parents support the schools so much?
The English school system's most important regulator is the attention of parents. Why, in this case, do they disagree with the authorities?
Witch-hunt fear
Partly, it is because some of these schools have been getting strong results. Partly, it is because there is fear of a witch-hunt - and the discourse around this reminds Muslims that they are not treated like people of other faiths.
Discussion of social conservatism among Jews or Catholics does not lead to talk of terrorism.
But it is also surely because Muslim parents do not have access to the same kind of state-funded faith education as parents of other creeds.
There are about 50 secondary schools in England whose catchment areas, weighted properly, are majority Muslim.
Of these, 17 are in Birmingham, 11 are in Bradford and six are in London's Tower Hamlets.
At none of the schools is the catchment above 90% Muslim. But parental choice means the Muslim intake of the schools sometimes runs a bit higher.
At the last school census, however, there were only eight officially designated Muslim state secondaries.
There are more than 300 Catholic secondaries.
No choice
So, for parents who want an education that reflects their own religion, an Islamicised comprehensive school might seem like a neat option.
With a growing Muslim population, this is an issue that will not go away.
Ofsted has no choice but to try to resecularise these schools. But one idea in the ether is that we should open more Muslim faith schools.
That would require a bold secretary of state, willing to defend the growth of faith schooling. It would also mean that schools would probably be more segregated by background.
There are also practical problems arising from the fact that there is no cardinal or archbishop who can oversee the schools.
But, on the other hand, once you accept that certain schools are Islamic schools, you can then think about constructing a governing body with proper representation and management processes to prevent the problems in Birmingham.
That outcome seems implausible.
But remember that parents are the first line of defence for the school system. And, at the moment, lots of them do not think lines in the sand drawn in Whitehall about the role of religion in our schools are worth defending.