'Trojan Horse' school governor is Ofsted inspector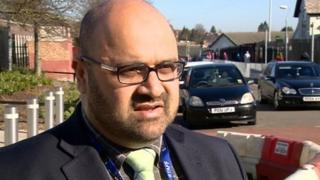 Tahir Alam, put in the spotlight by allegations of extremist takeovers in Birmingham schools, has himself been working as an Ofsted inspector.
Mr Alam is chairman of governors at Park View School, which has faced an inspection following the "Trojan Horse" claims of a hard-line Muslim agenda.
There has been speculation that Ofsted will deliver a tough verdict on some schools under investigation.
Ofsted has confirmed that Mr Alam was working as one of its inspectors.
It appears that he has worked for all three companies who carry out inspections on behalf of Ofsted - carrying out school inspections as recently as October 2013.
The claims of extremism against Park View School have been strongly rejected by Mr Alam - who also confirms his separate role as an Ofsted inspector.
"We're shocked by so many false allegations," Mr Alam has previously said, in response to claims of the segregation of girls and boys and the promotion of a radical Muslim culture.
Stopping contractors
The education watchdog uses inspectors from private contractors, so-called additional inspectors, and Mr Alam's name appears on Tribal's list of inspectors.
These additional inspectors are the majority of inspectors, carrying out the day to day inspections of England's schools.
The Tribal website listing from January 2013 says Mr Alam has been working as an inspector since 2010 and that he has "experience of inspecting primary and secondary schools".
"He has experience of senior leadership role in a primary school and as a school governance consultant and trainer for the local authority, delivering a range of training programmes on school performance and school improvement themes.
"He is currently working in a senior management role in an independent primary school and as a school improvement consultant and trainer," says the Tribal website.
Tribal says that he has not worked for them "in any role" since May 2013.
Another contractor, CfBT, includes a Tahir Alam in its list of inspectors from October 2013. And he is on Serco's list of inspectors from September 2013.
Last week Ofsted announced that it was going to scrap the use of outsourced contractors for inspectors. From September 2015 all inspectors will be directly contracted by Ofsted.
The change will give Ofsted more direct control over the recruitment and training of the staff inspecting schools.
Head teachers' leaders welcomed the change saying that it would give more consistency to inspections. They have challenged the reliability of some inspections.
Inspector requirements
Park View School, which has been at the centre of claims and counter-claims over Trojan Horse, is awaiting a verdict from the latest inspection.
There has been much speculation that some of these inspections will be highly critical. But if this overturns previously favourable inspections, it will raise questions about how previous inspections have been conducted.
When Park View was last inspected in 2012, Ofsted rated the school as outstanding in all categories.
The Trojan Horse claims emerged from an unverified, anonymous letter which set out a strategy for a group of hard-line Muslims to install sympathetic staff and governors in Birmingham schools.
There have been four investigations into the claims - with Ofsted reports and the government's response expected in the next week.
Inspectors recruited to undertake inspections for Ofsted are required to have skills to "gather, analyse and interpret relevant evidence" and to "make judgements that are objective, fair and based securely on evidence".
They are expected to have a teaching qualification or "relevant degree", at least five years of teaching experience credibility and "up-to-date professional knowledge" of areas such as the curriculum.