Minister attacks myth of girls' jobs and boys' jobs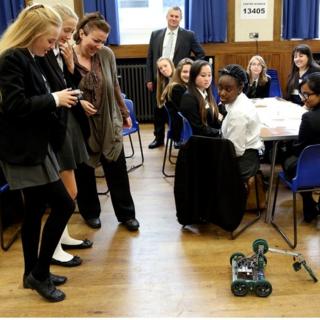 A minister is set to challenge a "persistent and debilitating myth that girls don't do science".
"No student should feel restricted by their gender", Jenny Willott, Women and Equalities Minister is expected to say.
She will be speaking at the launch of a project to "stamp out gender bias" in schools and get more girls to study maths and sciences at A-level.
"There really is no such thing as jobs for boys and jobs for girls", Ms Willott will argue.
The project, Opening Doors, follows a report from the Institute of Physics (IoP) last December which suggested almost half (49%) of state schools are "reinforcing gender stereotypes" in terms of the subjects students study at A-level.
Inspiring careers
The plan is to send young female scientists and engineers, working in industry or in universities, into schools to describe their careers and inspire other young women to follow in their footsteps.
They will help create "taskforces" of teachers and senior managers to "ensure students are not left with gender-prejudiced biases about the subjects they study or the careers choices they make".
The pilot will begin in schools in Somerset and Sussex but will later be rolled out across England.
"Physics has a pipeline problem", said IoP president Dr Frances Saunders.
"Despite the fact that A-level physics is now the second most popular subject for boys it languishes in 18th place for girls.
"If the UK is going to meet the science and engineering challenges of the 21st century we need to engage a larger number of girls".
Dr Saunders said change was needed across "whole school environments to reflect on the gender roles they propagate via often subtle, unintentional but deeply ingrained cultural influences".
Engineering mindsets
Ms Willott will point out that for the first time ever the presidents of the Royal Society of Chemistry, the society of Biology and the IoP are all female.
Speaking at Highams Park school in east London, she will say science, technology, engineering and maths can lead to careers as "inventors, creators of apps and researchers - but also managers, fashion buyers and TV executives".
A recent report by the Royal Academy of Engineering called for the education system to produce more learners "who think and act like engineers".
Claire Donovan, head of the academy's Engineering the Future programme said: "The persistence of bias and stereotype in subject selection must be addressed.
"The academy's recent report, 'Thinking like an engineer' identified the skills and qualities which define an engineering mindset, such as systems thinking, creative problem-solving and visualising, which are not gender specific".