Ofsted to bring school and college inspections in-house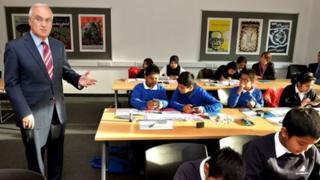 Ofsted is to stop contracting out inspections of schools and colleges and will only use directly employed inspectors from September 2015.
The announcement from England's education watchdog will mean that inspectors will be managed in-house.
Most inspectors assessing schools are currently employed by outsourced private contractors.
Ofsted says it will mean direct control over the "selection, training and quality assurance" of inspectors.
The change will come when current contracts with groups such as Serco and Tribal expire in August next year.
Chief inspector Sir Michael Wilshaw has previously said: "Inspection, as far as I'm concerned, is just too important for Ofsted to simply have oversight of third-party arrangements."
Head teachers' leaders immediately welcomed the change as a way of improving the consistency of inspections.
It will mean that the "additional inspectors" who are currently employed by private contractors will become directly managed by Ofsted.
'Efficient and flexible'
These are a majority of inspectors, who carry out the day-to-day inspections and evaluations of schools and colleges.
The current outsourcing contracts have been running since 2009, but will not be extended further.
A statement from Nick Jackson, of Ofsted, said that with the conclusion of these contracts "the time was right to look again at how Ofsted can best deliver a service that is both efficient and flexible".
Russell Hobby, general secretary of the National Association of Head Teachers, welcomed the change.
"The variability of delivery is one of the profession's biggest concerns," he said.
"Ofsted needs to be sure that its own internal quality assurance is up to spec, though. It is inspecting too many things too frequently for us to be entirely confident about quality."
The move was also welcomed by Malcolm Trobe, deputy general secretary of the Association of School and College Leaders.
But he wanted the changes to go further to ensure the quality of inspection teams.
"We believe HMIs should lead the inspection service. The inspection workforce should involve serving or recently retired school leaders who work directly for Ofsted and who receive the calibre of training needed to support the work of HMIs leading to a skilled, knowledgeable and respected inspection team."