What future for Birmingham children's services?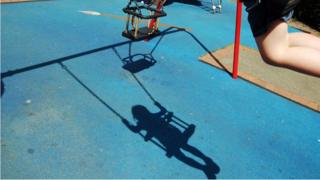 Birmingham City Council says it is working to address the issues raised in Ofsted's report on its children's services - but how easy will it be to turn around a department tainted by a catalogue of high profile failures?
The main responsibility of a child protection official is to focus on the needs of the child.
For a decade, Birmingham has failed in that basic duty.
We know the names of the children whose deaths haunt officials, including Toni-Ann Byfield, Khyra Ishaq and Keanu Williams.
What aren't so well known are the many, many other children who've been failed here, and are living with the consequences.
'Credible' improvement
The failures are inexcusable, and have been allowed to continue through a combination of poor leadership locally and the unwillingness, some would say fear, of ministers in Westminster to grasp the problem. For too long, Birmingham was firmly in the "too difficult to deal with" category.
Late last year, the government finally decided it had to do something. In November, it threatened to take over the running of children's services but recoiled in part because it realised there wasn't a clamour from organisations willing to run such a troubled team.
Instead, the Department for Education asked Prof Julian Le Grand to assess the problems and come up with a plan.
In March, he published his report and the government immediately accepted his recommendations, including the appointment of a commissioner to oversee improvements.
Lord (Norman) Warner, a former Labour health minister, has been working with the city council for the past few weeks, advising it on the steps needed to improve child protection.
In a letter to the education secretary 10 days ago, released by Birmingham City Council yesterday, he wrote that while "Birmingham still needs a lot of help to turn things round" he considers "that a good start has been made" and "there is now a credible improvement plan for moving forward".
That three-year plan, which is awaiting approval by the Department for Education (DfE), will focus on improving the management of the department and crucially attracting social workers to the city.
Vacancy rates are running at 28% and the council has previously admitted that many social workers see working in the city as a blot on their CVs.
But it's not just after numbers, it wants quality as well, people experienced in frontline child protection.
The options
It's increasing salaries to aid recruitment, but knows it won't be easy. After all, there are 20 local authorities in England with inadequate child protection departments all fishing in the same talent pool.
The council insists the children of Birmingham won't have to wait three years for things to improve, that evidence of progress should be apparent within 12 months.
But if it doesn't, the DfE is preparing the ground for an alternative arrangement. A public consultation on different ways of delivering child protection services finishes at the end of the month.
The clear aim is to find out if protecting children can be outsourced to voluntary, charitable or private sector organisations.
Prof Le Grand is also looking into the same issue. What Whitehall officials would like is to have a range of options to hand if time runs out on Birmingham or any of the other failing services.