Less Hitler and Henrys in new history A-level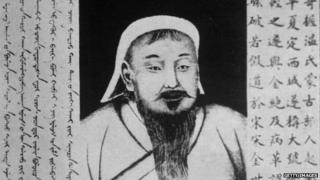 The rise of Islam and pre-colonial African kingdoms are among topics on offer in a draft new history A-level, due to be introduced next year.
The course, from exam board OCR, will also include options on Alfred the Great and Genghis Khan.
The aim is to give greater breadth to the fifth most popular A-level subject.
OCR's head of history, Mike Goddard said the subject had been criticised "for being too repetitive and having a 20th Century Western focus".
Hitler and the Henrys
Mr Goddard said these criticisms were sometimes unfair but added that: "Hitler and the Henrys can dominate.
"Universities tell us they want incoming students to have greater breadth of knowledge.
"It's vital that schools and colleges have an opportunity to deliver, for example, the history of pre-colonial, non-Western civilisations, alongside British history."
The board says the course will continue to include familiar subjects such as the Tudors and Stuarts, Victorian social reform and the rise of Hitler but the aim is to broaden the subject "in time and space".
Some of the 10 new topics will appear in an A-level syllabus for the first time.
Mr Goddard said the African Kingdoms topic, developed with university experts would "give students, for the first time, the chance to discover the economic and political power of four pre-colonial kingdoms which had far-reaching global trade and diplomatic connections".
Altogether there will be 58 topics divided into three groups:
world history
British history
historical themes
Sixth-formers are asked to choose three topics - one from each group.
New subject criteria from Ofqual requires that from 2015 students should take options from across a 200-year range and include the study of more than one state.
'Under-explored'
OCR says its specification ranges over nearly 1,700 years and includes dozens of states.
The board hopes it might be appealing for teachers to get out of their comfort zones and teach topics that are new to them, using a range of new online resources and support facilities.
Prof Peter Mandler, president of the Royal Historical Society, said the principle of broadening school history was an approach favoured by academics.
"History tells us not so much about who we are as about who we have been and what we might yet be," he said.
"We welcome efforts by the examination boards to bring recent academic research on hitherto under-explored histories within reach of school pupils.
"It is particularly important not to tell the history of the non-Western world solely through its contact with the West."
The new course will be submitted for accreditation by the exam regulator Ofqual next month.
If approved it will be taught in schools from September 2015.