More pupils take tougher primary tests says government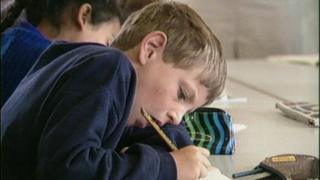 The number of pupils taking harder national curriculum tests at the end of primary school has almost doubled in two years, the government says.
The tests, often known as Sats, are taken by 11-year-olds in England to assess their ability at maths and English.
An upper level, Level 6, was scrapped in 2002 but reintroduced in 2012.
The government said the figures showed schools had "embraced the opportunity" to stretch their brightest pupils.
Some 550,000 11-year-olds took their Sats tests last week.
Doubled maths
School league tables are based on how many pupils reach the expected level - which is Level 4.
Pupils who are performing above this level could achieve a Level 5 - and an even higher, optional standard can be measured at Level 6.
And the figures show that in reading some 95,000 pupils were also entered for the optional Level 6 tests, compared with 47,000 in 2012.
In maths some 106,000 were entered for Level 6 Sats, compared with 55,000 in 2012.
In grammar, punctuation and spelling Sats, introduced last year, some 90,000 were entered for the Level 6 tests, compared with 58,856 in 2013.
A Department for Education spokesman said: "We brought back these tests because we wanted to give teachers the chance to set high aspirations for pupils in literacy and numeracy.
"We want to see every school stretching all their pupils and these figures show that primary schools have embraced the opportunity to stretch their brightest 11-year-olds by teaching them more demanding new material, in line with the new curriculum, and by entering them for the Level 6 test.
"This is part of a package of measures, along with toughening up existing primary school tests, raising the bar and introducing higher floor standards that will raise standards and help ensure all children arrive at secondary school ready to thrive."