Why do girls not do physics A-level? IOP to investigate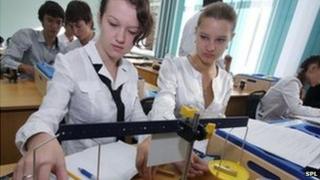 A research project into why girls drop physics after GCSE has been announced by the Institute of Physics (IOP).
Specialists will work in 20 schools in England to establish how best to encourage more girls to study physics at A-level.
The IOP says girls make up only 20% of students taking physics A-level.
IOP president Frances Saunders said study was "a real opportunity to find the solution to the chronic problem of too few girls studying physics".
Dr Saunders said choosing to drop the subject too early "seriously limits girls' choice of future careers".
'Stereotyping'
The two-year pilot project will begin in September in schools in Yorkshire, the North-East, Midlands and East of England.
Physics specialists will look at factors that discourage girls from studying A-level in the subject, including attitudes towards physics, teachers' classroom practice, and gender stereotyping across schools as a whole.
They will also "trial a series of intensive interventions" to overcome these, says the IOP.
Project manager Clare Thomson said girls did just as well as boys in GCSE maths and physics, but only a minority chose to continue the subject beyond the age of 16.
Previous initiatives have succeeded in boosting overall numbers of A-level physics students but the proportion who are girls has stuck at about 20% for 20 years, said Ms Thomson.
"This gives us an opportunity to try some different ideas. We will look at the whole school culture around gender and gender stereotyping and how that limits choices for both girls and boys - both subject choices and career choices."
She said the aim was to build girls' confidence and resilience so that the "hardness" of the subject "doesn't become a barrier".
"We will be working with girls directly and helping them to think that physics is a subject that they can do and be good at."
The researchers will also work with physics teachers on issues such as whether single or mixed groups work best in terms of building girls' confidence in the subject.
'Love with physics'
The Department for Education has announced funding for the project as part of the Stimulating Physics Network, which already works in 400 schools to boost overall numbers taking the subject.
Education Minister Elizabeth Truss said: "The Institute of Physics has found that the difference between pupils falling in or out of love with physics is the teaching they receive.
"Inspirational teaching, challenging stereotypes and getting young people excited about the huge potential of science is the best way to get more pupils studying it and going on to enjoy the higher wages these skills command."
David Hermitt, head teacher of a specialist engineering academy in Cheshire, said ambitious girls aiming at medicine as a career often dropped physics at A-level because they deemed biology and chemistry more important for their university applications.
Mr Hermitt, head of Congleton High School, said he wanted to encourage more of his female students to continue with physics at A-level and consider engineering as a career as an alternative.
He added that it was important for schools to have female physics teachers as role models.
The IOP is also running a similar project in six Thames Valley schools with funding from the Drayson Foundation.