University staff may lose day's pay for two-hour strike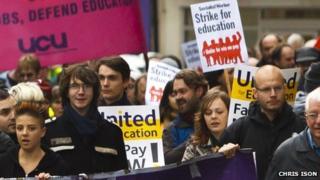 Thousands of university staff who staged a two-hour strike over pay have had a full day's wages docked from their salaries, says their trade union.
The University and College Union (UCU) has written to vice-chancellors and principals at 26 universities demanding the money be returned.
The original dispute was resolved earlier this month when staff voted to accept a 2% rise.
The university employers' body UCEA said docking a day was "legitimate".
The UCU says its members took part in three two-hour strikes in January and February as well as three full-day strikes.
It says around a fifth of institutions threatened to deduct a full day's pay for all three two-hour stoppages, some for one or two of them - while the University of Greenwich said it would deduct half a day for each two-hour walkout.
The union says it considers any money taken from staff in excess of the two hours of the strike is an unlawful deduction
General-secretary Sally Hunt said: "We have written to the small number of universities that threatened to take a full day's pay for our two-hour stoppages.
"We have told them to either remove the threat to deduct a full day's pay or pay back the money taken.
"If universities do not repay the money, or remove the threat to deduct it, we will seek redress through the courts on behalf of our members."
The union says the original action was a legitimate attempt to reverse years of declining pay.
The letter suggests that docking a full day's pay for a two-hour strike will damage attempts to rebuild trust and confidence among staff in the wake of the original dispute.
'Partial performance'
The universities say that withholding a full day's pay was justified as the two-hour strike constituted "partial performance" by staff which put them in breach of their contracts for the whole day .
In a statement, UCEA (University and College Employers' Association) said: "Unions are fully aware that their members will lose pay if they ask them to take part in industrial action.
"The stated aim of the UCU's action was to 'maximise disruption', in this case to students, and individual higher education institutions made their own decisions based on this knowledge.
"It is evident that a significant number of employers adopted this policy as a legitimate response."
A statement from Staffordshire University said: "This decision wasn't taken lightly and we communicated this stance to our staff in advance of their strike action. It is a decision we stand by."