'Trojan Horse': Head teachers' fears over six schools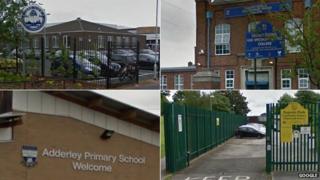 Head teachers believe there were "concerted efforts" to infiltrate and run about six Birmingham schools in line with hardline Muslim principles.
The head teachers' union, NAHT, has been working with about 30 members in 12 Birmingham schools over claims of a plot known as Operation Trojan Horse.
General secretary Russell Hobby said he had serious concerns about events in half of these schools.
Ofsted, police, council and government investigations are continuing.
A letter sent to local authorities last year claimed that several schools had been infiltrated and were being run along hardline Muslim principles.
Speaking ahead of his association's annual conference in Birmingham, Mr Hobby said he had held a meeting with 100 head teachers in the city to discuss the claims.
Letter 'fake'
He said he believed the Trojan Horse letter was fake but it did refer to some incidents that appeared to have happened in some schools.
He added that nothing so far had confirmed the letter's authenticity - but what it had done was to trigger an investigation.
"We've been supporting about 30 members in the city. We have been doing detailed casework for schools and we have serious concerns about what's been going on in about half a dozen schools."
He added: "In a small number of cases the association believes the actions may have broken the principles of governance, contravened good employment practices and risk eroding the basic entitlement of children to a rounded education."
Mr Hobby will address the matter in his speech this weekend, saying that it is neither a cause for panic nor a cause for comfort.
He will say: "A tight network of religious leaders of the Islamic faith has made a concerted effort to get involved in the running of schools, and to strengthen the power of governing bodies to have a dominant influence in shaping the character of local schools.
"It is not clear that they have done anything wrong just by doing this. Indeed, such actions are officially encouraged."
Mr Hobby also told reporters that concerns had been raised that some staff appointments had been made on the basis of faith rather than suitability for the job.
He was also concerned about claims that children were denied access to key parts of education, such as dance, drama and music classes and sex and relationship education.
Pressure
But these aspects of the allegations were up to Ofsted to substantiate, he said, as the NAHT was mainly involved with casework to do with employment practices.
He said the schools in question were a mix of primary, secondary and academy schools and that there was no evidence to suggest that academy schools, which are more independent than normal state schools, are likely to have been a particular target.
But he highlighted the fact that England's education system was now one that encouraged autonomy at the school level, suggesting this could be exploited.
And he said there needed to be a body, such as the "due diligence and counter-extremism unit" at the Department for Education that heads could turn to if they felt they were under undue pressure.
In a separate development, Ofsted announced on Friday that reports on forced inspections on 18 Birmingham schools would be delayed until the beginning of June while inspectors gathered additional evidence.