Funding gap 'hampers state sixth formers'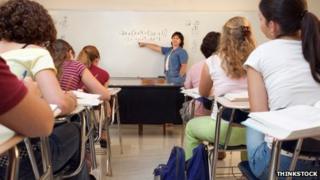 The government should increase funding to state sixth forms and FE colleges if it wants more state pupils in selective universities, says a report.
Annual fees at private sixth forms are over three times state funding for 16- to 18-year-olds in England, says the Association of Colleges.
"The funding gap is hampering state pupils getting into the best universities," claims the report.
The government says it is protecting funding for 16 and 17 year olds.
The research from the Association of Colleges (AoC) draws on the Independent Schools Council annual census.
This gives a figure of £14,475 for the average annual fee for private sixth forms, not including any boarding charges.
Minding the gap
By contrast average spending on state educated 16- to 18-year-olds is £4,500, says the AoC.
The researchers also looked at figures comparing the proportion of pupils from state and private schools progressing to the most selective, top third of universities.
It showed that in 2011, 24% state school pupils went on to these most selective universities, compared with 64% of private school pupils.
The report notes that independent schools educate just 7-8% of sixth formers.
It also points out that in the private sector fees for sixth formers are higher than for younger pupils, whose parents pay on average £13,476, and that private sixth form fees have risen by 22% in the past four years.
The AoC says that in contrast, sixth form funding in the state sector is lower than for younger pupils, with sixth formers attracting almost £1,000 less than 11- to 15-year-olds.
"The reasons why independent schools achieve more success in access to higher education are hotly contested but one issue that attracts relatively little attention is the difference in spending on sixth form education," says the report.
Cash 'freeze'
It continues. that state spending on sixth form education is "frozen in cash terms. Colleges and schools are both taking steps to close courses, freeze pay and cut staffing numbers.
"Given this it is hard to see state education receiving sufficient funding to close the gap with independent schools in helping 18-year-olds secure places at the best universities".
Julian Gravatt, the AoC's assistant chief executive, called for a more open discussion of how the Department for Education (DfE) decides its funding priorities.
"They don't seem to make these decisions on the basis of any analysis of the needs of a particular age group.
"If we're serious about closing the gap between private and state schools in accessing selective universities, then the DfE will need to do something about the widening gap in sixth form funding levels between the two sectors."
A Department for Education spokeswoman said: "We have worked to protect funding for 16 and 17-year-olds and have introduced a new performance system so colleges and sixth forms will, for the first time, have to show they are getting their students into universities, jobs and apprenticeships."