NASUWT teachers' union election year strike warning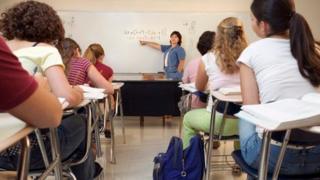 The NASUWT teachers' union has delivered a warning that it is willing to take strike action in the run up to next year's general election.
The union's leadership told delegates at their annual conference of a strategy to "defend the interests of the teaching profession".
"The pressure is on the secretary of state," said the union's general secretary Chris Keates.
The government says strikes "disrupt children's education".
The NASUWT, meeting in Birmingham, is one of the two biggest classroom unions.
When the National Union of Teachers staged a one-day national strike last month, the NASUWT did not participate.
Public campaign
But Ms Keates, leader of the NASUWT, has reaffirmed the union's readiness to take industrial action, including striking, over teachers' pay and working conditions.
This general election strategy calls for the teachers' union campaign to gain the support of parents and the public and to engage with political parties.
It calls for action short of striking - but with the possibility of local or national strikes. There are no dates proposed for any walk-outs.
"NASUWT members remain committed to maintaining and, if necessary, escalating the current industrial action campaign, including moving to further strike action," said Ms Keates.
She said it was "vitally important" in the run up to the general election that political parties should be committed to a "high quality, democratically accountable education service".
A successful education system cannot be delivered "unless governments recognise the centrality of the teacher workforce", said Ms Keates.
But the threat of walk-outs was criticised as unnecessary by the Department for Education.
"Further strike action will only disrupt parents' lives, hold back children's education and damage the reputation of the profession," said an education department spokeswoman.
She rejected arguments that changes to pay and workload were undermining the teaching profession.
"In fact, teaching has never been more attractive, more popular or more rewarding. A record number of top graduates are now applying to become teachers and there have never been more teachers in England's classrooms, with a rise of 9,000 in the last year.
"It is important that teachers work closely with school leaders to ensure that their workload is manageable. We trust the professionalism of our head teachers to monitor their staff's workload and address any issues."