Teachers' unions demand qualified status for staff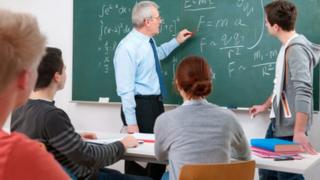 Teachers' unions are demanding that schools in England should only employ fully-qualified teachers.
The National Union of Teachers' conference has voted against schools using teachers who do not have formal teaching qualifications.
The NASUWT conference has also warned that allowing unqualified teachers is an "attack on professional status".
But a Department for Education spokeswoman said: "It is entirely up to head teachers who they employ."
A survey among NASUWT members earlier found that 53% had worked alongside unqualified teachers.
Speaking at the NUT conference in Brighton, Agnes Bishop, a teacher from Essex, said: "We condemn those responsible for attempting to de-professionalise teaching."
Defining 'teacher'
The conference voted to call on whichever party forms the next government to bring forward legislation to ensure that every child is taught by a qualified teacher.
The union also wants a regulatory definition of who can be described as a teacher.
NUT general secretary Christine Blower gave her own definition of a teacher: "A teacher is someone who has patience, enthusiasm, subject knowledge and pedagogy. A teacher has a degree and a teaching qualification. "
The government said state schools should have the same flexibility as independent schools to bring "great linguists, computer scientists, engineers and other specialists into the classroom".
But the teachers' unions have attacked this as a "cheap alternative" that threatens standards.
The NASUWT conference has heard claims that using unqualified staff is a cost-cutting measure.
A survey of more than 7,000 members found that almost two-thirds thought schools were increasingly likely to opt for hiring less expensive, unqualified staff.
"Our children and young people have been robbed of a fundamental entitlement to be taught by qualified teachers," said the union's general secretary, Chris Keates.
"The decision to remove qualified teacher status had nothing to do with raising standards and everything to do with reducing costs, depressing teachers' pay and feeding the free market."
The National Union of Teachers, meeting for its conference in Brighton, has commissioned a survey of parents which it says shows widespread support for requiring teachers to have teaching qualifications.
The survey found 82% of more than 1,500 parents believed schools should only employ qualified teachers.
'Getting right mix'
The Labour Party has promised to make qualified teacher status a requirement for permanent teaching staff in state schools - and the shadow education secretary Tristram Hunt delivered this message at the NASUWT conference on Saturday.
But Robert Wilne, the head of the London Academy of Excellence, which is an A-level sixth form in east London, said he thought employing unqualified teachers was sometimes the best option.
He said: "Certainly head teachers like myself will want to make sure they bring into school the intellectual skills, perhaps the life-experience skills that will make a rich and diverse and valuable body of teachers to really enhance education of the young people.
"Now sometimes, that means you will want to bring somebody in who has got those fantastic skills, and experience, but they're not yet qualified."
The Department for Education said there were now fewer teachers without qualified teacher status than there were in 2010 - and that head teachers should be trusted in "getting the mix right for the pupils they know best".
"Overall the quality of the teaching workforce is rising. A record 96% of all teachers now have degrees or above, meaning there are an extra 43,000 teachers with degree level qualifications in classrooms since 2010," said an education department spokeswoman.
,