University marking ban 'on hold' after new pay offer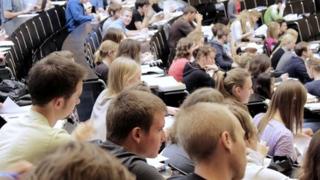 Lecturers have agreed to postpone a planned marking boycott after employers made a new pay offer.
The boycott, due to start later this month, was part of continuing action over this year's 1% pay offer.
The employers have now offered 2% for next year which will be put to members in a formal ballot, says the University and College Union (UCU).
"UCU has decided to ballot members on their views," said the union's general secretary Sally Hunt.
"It is only right that they make the ultimate decision about what happens next."
'Ultimate sanction'
The marking ban was announced by the union in February as the "ultimate sanction" in the pay dispute which has seen lecturers and support staff walk out in a series of one-day strikes at universities across the UK.
Due to start on 28 April, the ban could have meant that students would not get their final degree results and would therefore have been unable to graduate.
The unions said the 1% offer represented a real-terms pay cut of 13% since 2009.
The Universities and Colleges Employers Association (UCEA) described the 2% offer for next year as "substantial... exceeding cost-of-living indicators".
In a statement UCEA said: "The employers have made it clear that this pay offer, considerably more than those made in recent years, is at the absolute limits of affordability for higher education institutions and only stays on the table if the current and planned industrial action is called off."
UCEA added that the offer amounted to a total pay increase to the staff involved of "at least 3.2%" when taken together with incremental rises.
"The full and final offer is at a level that exceeds three current cost-of-living indicators and seeks to reflect the unions' concern that pay levels have been falling behind over recent years.
Lowest paid
"If accepted, the increase will bring the vast majority of staff in the sector on the lowest points of the pay scale to rates equivalent to or above the living wage."
Research published last year by the National Union of Students (NUS) and Unison, the union representing support staff in university libraries, administration, catering, cleaning and security, estimated that some 12,500 university employees were paid less than the living wage.
NUS President Toni Pearce welcomed the postponement of the marking ban.
"This news will provide some relief to students who are understandably very concerned at the prospect of further disruption.
"We have consistently supported the case for fair pay in higher education, particularly for the lowest paid," said Ms Pearce.