Examiners 'may accommodate Ramadan fasting'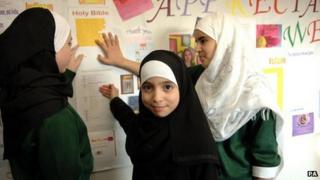 Teachers are calling for A-levels and GCSEs to be scheduled to help Muslim students on Ramadan fasts.
This year Ramadan starts on 29 June, but over the next five years it will fall progressively more in the examination and revision season.
The Association of Teachers and Lecturers (ATL) says the results of Muslim students, who fast from sunrise to sunset, could be adversely affected.
It is holding talks with exam boards to find ways to aid fasting Muslim pupils.
Disadvantage
This could mean reducing the number of examinations scheduled for one day, and making sure key subjects, such as maths and English, are timetabled for the morning.
A resolution calling for greater awareness of the situation was passed at the association's annual conference in Manchester on Wednesday.
Proposing the motion, Barry Lingard from Bolton said: "Fasting from dawn to dusk will impact on pupils in various ways.
"These young people will not be eating or drinking - it will be harder for them to perform at their very best.
"This issue is even more important with the proposed move towards linear assessment. Young people will have one shot at gaining those crucial qualifications.
"And over the coming years, young Muslim pupils will be at what we believe is a severe disadvantage."
Abdul Choudhury from Tower Hamlets in London said the Muslim Council of Britain regarded anyone aged 16 as adult for the purposes of fasting and so students sitting GCSEs as well as A-levels would be affected.
"I have no doubt that standards will be affected by this. If they go into exams without any water or food, it will have an effect on their results."
Michael Turner, director of the Joint Council for Qualifications, said: "We're consulting on the exams timetable [for 2015] and we will be looking at the impact of Ramadan on that timetable."
Chess
In another resolution passed at the conference, the ATL said chess should be promoted in primary schools across the UK.
Teachers said the game could help pupils learn to take turns, build concentration and develop social skills.
Proposing the motion, Hank Roberts from London said: "Chess levels the playing field as it crosses all socio-economic boundaries.
"It is a universal game with worldwide rule consistency. Religious affiliation, shape, colour, language don't matter - everyone is equal on the chessboard.
"Students who are English-language learners find success with chess because they don't face a language barrier."
Mr Roberts said children as young as seven could learn to play the game.
"Personally, I think it should be compulsory."
The ATL's stance was welcomed by sports charity Chess in Schools and Communities (CSC).
Malcolm Pein, CSC chief executive, said: "Today's resolution highlights the growing awareness of the teaching profession that chess, which is taught in less than 10% of state schools and receives no funding from government, can contribute in the quest for greater academic attainment.
"Chess engenders transferable skills such as improved concentration, problem solving, logical thinking, creativity and spatial awareness which educationalists and politicians across the spectrum have highlighted as being in deficit in UK schools."