Teachers warn over 'corporate greed' in schools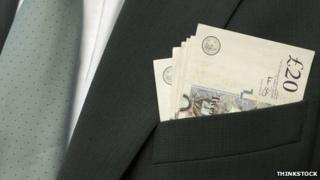 England's education system is being "destroyed through corporate greed", teachers claim.
The Association of Teachers and Lecturers (ATL) warns of a "culture of cronyism" with private companies increasingly taking control of schools.
The union accuses these companies of "thriving on the spoils" of consultancy fees for free schools and academies.
The government said these schools were subject to "far tighter" financial controls than council-run schools.
The ATL passed an emergency motion at its annual conference calling for a school funding system in which all schools are funded in a "fair, transparent and accountable way", with safeguards to prevent "unacceptable" financial practices.
Mark Baker, ATL senior vice president, who proposed the motion said: "Our schools and colleges are proving to be a lucrative host to those who seek to bleed them dry.
"The number of private companies queuing up to get in on the act has trebled since 2011.
"Money that should be spent on what is best for learners, not directors and shareholders."
Mr Baker said private companies were "thriving on the spoils of consultancy fees, legal and accountancy bills", money that should be spent on children's education.
He added: "We have a culture of cronyism, now so well engrained, we almost take it for granted."
Free schools
The ATL criticised the proposed establishment of a sixth form college in Westminster, under the government's free schools policy, at a cost of £45m.
And it drew attention to a report by the TUC last month, Education Not For Sale, which claimed the government had spent over £637m on free schools in England for fewer than 22,000 pupils.
A flagship policy of Education Secretary Michael Gove, the first free schools opened in 2011. Currently 173 are open.
Free schools are semi-independent state schools, which have freedom over areas such as the curriculum and teachers' pay.
A spokeswoman for the Department for Education said: "No individual or organisation with a governing relationship to an academy or free school can make a profit.
"Academies and free schools are funded on the same basis as council-run schools and are subject to far tighter financial controls.
"Free schools are actually being delivered at a fraction of the cost of previous school building programmes, as recognised by the National Audit Office."
The government's reforms were raising standards across the board, giving head teachers the freedom to decide what is best for their pupils and ensuring the best possible value for money for the taxpayer, she added.
"In 2013, the percentage of pupils achieving five or more good GCSEs in sponsored academies rose by 2.3 percentage points compared to 1.8 percentage points in local authority schools."
'Ramming the pipeline'
Shadow Education Secretary Tristram Hunt, who addressed at the ATL conference on Tuesday, said the country had seen "all sorts of waste" under the free schools policy.
"We've always said that we would keep open existing free schools and those in the pipeline, but because we have a highly politicised Department for Education (DfE) there's a fear they're ramming the pipeline," said Mr Hunt.
"And because it's on a political timetable rather than an educational timetable, the fear is it's going to be, as the year progresses, and the looming prospect of defeat becomes a certainty, that they will be throwing out as many as possible. That is a source of concern in terms of the DfE budget."
He added: "If civil servants are being placed under political pressure to deliver these free schools on a political timetable we will see, once again, quality problems, the potential for quality problems."