Families have less time together, teachers warn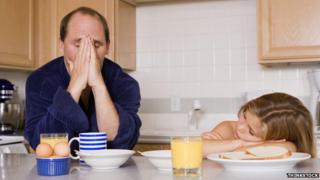 Family life is under growing strain as parents have to put work before their children, a survey of teachers finds.
Teachers warn days of up to 10 hours in school or childcare result in children who do not talk to anyone, fall asleep and lag behind their peers.
Most of the more than 1,300 teachers polled by the Association of Teachers and Lecturers (ATL) felt families spent less time together now.
The government said parents should decide what is best for their family.
According to the survey teachers believe pressure on families is eroding childhood.
More than half (56%) of the 1,343 members surveyed said they thought children spent a lot less time with their families than they did 20 years ago.
Nearly three quarters, (74%) said parents and children had less time together than they did five years ago and 61% thought they had less time together than two years ago.
The vast majority (94%) said the main reason for this is parents working, while 92% blamed the use of technology.
'Like ghosts'
In response to the survey, one primary school teacher in Kent said: "Many of our parents are commuters into London and therefore work long hours.
"We have children as young as four who are at school 8am-6pm, eating breakfast, lunch and dinner."
An early years teacher from Yorkshire added: "Some children are placed in before- and after-school care from 8am to 6pm.
"These children walk around like ghosts, do not talk to anyone, fall asleep frequently, do not progress as quickly as their peers."
A teacher at a secondary school in Kirklees said: "The pressures on family time have grown considerably and work-life balance for many parents is an increasingly difficult area. The necessity to stay in work means time spent with children isn't always a priority."
Bedrock of society
The ATL discussed the issue at its annual general conference in Manchester on Tuesday.
A resolution, calling for an end to the "erosion" of childhood and family life by challenging proposed policies such as school starts for two-year-olds and extending primary school hours, was passed.
The motion says strong families are the "bedrock of a strong and stable society" and families need a work-life balance that allows them to spend time together.
Supporting the motion, Cecily Hanlon from Leeds said: "We need more family-friendly jobs, not families being forced to be job-friendly families."
Raymond Mitchell from Cambridgeshire added: "Are our children and grandchildren, at best, cogs in an economic system, in which their early integration into the skills and attitudes of production the first priority?
"Or, at worst, hindrances to adult economic potential and therefore to be warehoused away?"
The ATL's poll found that 71% of school staff thought children should start school at age five or older, with just 24% saying that four is the right age to start school.
Most of those questioned (77%) thought that their current timetabled day was about the right length for the majority of their pupils.
But 18% said it was too long, with pupils feeling tired, having difficulty concentrating and even becoming more disruptive.
'Time to be children'
Ministers have previously called for school nurseries to open longer, making it easier for parents to combine childcare with work.
In a speech last week, education minister Elizabeth Truss said all schools should be given assistance to cater for younger children and to open for longer hours so that families have greater flexibility.
Sir Michael Wilshaw, the head of the education watchdog Ofsted, has also suggested children - notably those from disadvantaged backgrounds - would benefit from starting school at the age of two.
Dr Mary Bousted, general secretary of ATL, said: "It's really important for children to have time to be children, to play with friends and spend time with their families.
"However, increasing living costs mean that for most families it is now unaffordable for only one parent to work.
"Parents in the UK are working some of the longest hours in Europe and this puts a huge pressure on family life.
"Parents are coming home exhausted having worked from 7am to 7pm, and frequently the children are tired too if they've spent all day at school or with childminders," she said.
A spokeswoman for the Department for Education said: "After-school clubs such as sports associations and homework clubs are not compulsory, but they can be of real benefit to children, especially those from disadvantaged backgrounds.
"Parents should decide what works best for their family.
"Extending school nursery hours from 08:00 to 18:00 will give more flexibility to parents and enable more of them to use these high quality facilities to ensure their children start learning basic skills, such as number and letter recognition, from a young age.
"This can have a real and lasting impact on their development and life chances."