Parents 'asked to pay for text books by schools'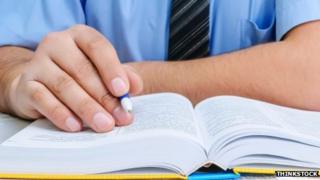 Many parents are being asked to make voluntary contributions to the cost of text or revision books, a survey says.
The Association of Teachers and Lecturers survey of 500 staff members in English, Welsh and Northern Irish schools found 26% of parents were asked for contributions for such items.
According to the survey, in 30% of cases, if parents cannot pay, the school makes up the difference.
But 43% of staff fear such requests put some pupils at a disadvantage.
There are strict rules about what schools can ask parents to contribute to.
Department for Education guidance says: "Nothing in legislation prevents a school governing body or local authority from asking for voluntary contributions for the benefit of the school or any school activities."
'Optional extras'
It adds: "When making requests for voluntary contributions, parents must not be made to feel pressurised into paying as it is voluntary and not compulsory."
The guidance also makes clear that schools may not charge for any education that is part of the national curriculum, but that it may charge for some activities known as "optional extras", for example extracurricular sporting activities.
The survey also suggests 90% of schools ask parents to contribute to the cost of school trips and activities related to the curriculum.
But with these sorts of contributions 82% say their school will make up the difference where families cannot pay.
The survey's respondents also say parents and carers are often expected to make voluntary contributions in a range of other forms, rather than money.
Some 87% say contributions are sought for fancy dress and charity days, 78% mention cake or baking sales, 66% say their school asked for donations towards tombolas or raffles, and 48% say they asked for food for pupils' parties.
Dr Philip Dixon, director of ATL Cymru, said: "The stark reality is that the budget squeeze means schools and colleges are increasingly forced to ask parents to help pay for resources and activities that support the learning of their children.
"Schools and colleges want to provide a wide range of activities to broaden their pupils' horizons. Voluntary contributions are a growing demand on parents. We are concerned about those parents who can't pay.
"We don't want their children to miss out. More needs to be done to ensure that a child's education does not depend on the income of their parents."