Highest ever number of school staff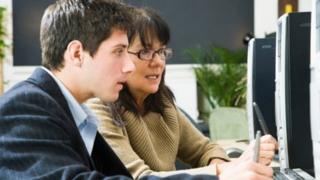 The number of teachers and support staff working in England's state schools has risen to a record level of 1.3 million people.
These annual census figures show there are about 220,000 more full-time-equivalent teaching and assistant posts in schools compared with 2005.
The profile of teachers shows a very large majority are female and white.
It means that more than one in 12 women in England's workforce has a job in a school.
The Department for Education, which published the report, says the record numbers of staff show "there has never been a better time to be a teacher".
But Labour's shadow education secretary Tristram Hunt has warned the figures show a 16% increase in teachers working in schools without teaching qualifications.
Growing pupil rolls
This snapshot of people working in England's schools last November shows that the workforce grew every year in the previous eight years, regardless of changes in government or economic cycles.
The number of teachers rose by about 9,000 compared with 2012, driven by a surge in the birthrate and rising primary school rolls. There are now 451,100 full-time-equivalent teachers and 471,000 assistants and support staff.
Figures on any changes to the teacher-pupil ratio are not yet available.
But the overall staff numbers, including teaching assistants, have climbed continuously in the years since 2005 - up from about 700,000 full-time-equivalent posts to 922,000 in 2013.
A proportion of these are part-time jobs, with the total number of people working in schools, including teachers, teaching assistants and support staff, now reaching 1.3 million.
About three in four teachers are female - and an even higher proportion of assistants.
It means there are more than a million women working in schools in England - out of a total of 11.7 million women currently in employment.
A high proportion of teachers are white - about 93% - with only 1% of teachers classified as black Caribbean.
The figures show that teaching is now an almost entirely graduate profession, with 96% holding degrees.
These degrees do not always match the subjects they are teaching. More than one in five secondary school maths teachers and about a third of geography teachers do not have a relevant degree.
'Threat to standards'
But Labour has attacked the rise in teachers without qualified teacher status, increasing by the equivalent of 2,300 full-time posts to 17,100.
The workforce census says that 3.8% of teachers in state-funded schools, including academies and free schools, do not have qualified teacher status, up from 3.3% in 2012.
Within free schools, the figures show 13% of full-time equivalent posts are held by teachers without qualified teacher status.
Mr Hunt claimed this was a threat to standards: "The evidence from the best-performing school systems around the world shows us that the quality of teaching makes the biggest difference to raising school standards."
The average salary for a full-time qualified teacher is £38,100 - slightly higher in secondary than primary, slightly higher in local authority schools than in academies.
For senior staff, such as heads, deputies and assistant heads, secondary academies pay an average of £62,300 - slightly higher than in local authority schools.
'More top graduates'
The National Union of Teachers says this shows that "academies and free schools are paying excessive salaries to principals at the expense of spending on pupils and pay for other teachers".
A Department for Education spokesman welcomed the rising proportion of graduates in teaching - and rejected the claims about rising numbers of teachers without qualified teacher status (QTS).
"It is entirely right that state schools should enjoy the same advantage that private schools have to bring great linguists, computer scientists, engineers and other specialists into the classroom. It is entirely up to head teachers who they employ and we trust their judgment in getting the mix right for the pupils they know best.
"In fact, today's statistics show there are 700 fewer non-QTS teachers in schools than there were in 2010, while the percentage of non-QTS teachers in academies is down from 9.4% in 2010 to 5.3%.
"Overall the quality of the teaching workforce is rising. A record 96% of all teachers now have degrees or above, meaning there are an extra 43,000 teachers with degree level qualifications in classrooms since 2010."