How the student finance scheme works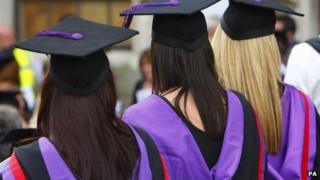 Students from England, whose courses began on or after 1 September 2012, can be charged up to £9,000 a year for tuition. They take out student loans for these fees, as well as maintenance, under a new finance system.
The BBC News website answers key questions.
How much can students expect to pay back each month?
Each month graduates pay back 9% of any income over £21,000. So those earning £21,000 and under a year will pay nothing.
The Department for Business, Innovation & Skills says someone earning £25,000 per annum will pay around £30 a month, rising to £67 for a graduate on £30,000 .
Repayments continue to rise sharply for those on higher salaries: £142 a month for those on £40,000, £217 for those on £50,000 and £292 for those on £60,000.
What is the rate of interest on the loan?
While students are studying, the rate of interest on loans is the rate of inflation (using the Retail Prices Index) plus 3%.
When graduates are earning £21,000 or less, the rate of interest is the rate of inflation.
This rises to the rate of inflation - plus up to 3% - when they earn between £21,000; and then the rate of inflation - plus 3% - when they go above earnings of £41,000.
How is the money collected?
For employees, employers work out the repayments and the money is taken automatically from the payroll like tax.
Those who are self-employed will need to make repayments as part of a self-assessment tax return.
Each repayment is given to HM Revenue and Customs (HMRC), which passes the money on to the Student Loans Company (SLC).
If a student leaves a course early, they still have to repay their student loan.
Can loans be repaid early?
Yes. Students can pay some or all of their loan at any time without an extra charge.
There had been calls from Liberal Democrats for a levy of 5% for those who paid off their loan early. This was to stop wealthier graduates, or those assisted by their parents, from opting out of the "progressive" system of paying off loans.
However, the move was scrapped amid concerns that it would alienate middle-class voters.
Are there other student finance systems in England?
There are three systems in place.
One is for the period pre-1998. These loans are held by those who started higher education courses between 1990 and 1997. Repayments must be made when earning over £28,775 a year, although there is an option to pay earlier if desired.
Then there is the system for the period 1998-2011, for those who started degree courses in these years. The repayment earning threshold for these loans is currently £16,910.
The new system is for those students who started courses on or before 1 September 2012.
What happens elsewhere in the UK?
Students borrow and repay their loans under the system for the nation in which they are resident when they apply.
Welsh universities and colleges can now charge up to £9,000 a year in tuition fees. But the Welsh Assembly has pledged that, wherever in the UK Welsh students choose to study, they should not have to pay more than £3,685 a year.
The remainder of the fee will be paid via a tuition fee grant. So in the case of a £9,000 fee, the students will pay £3,685 a year and the government will cover the remaining £5,315.
Like in England, repayments only start when graduates are earning more than £21,000 a year.
Students from Scotland who apply to Scottish universities do not have to pay for tuition fees. But students from elsewhere in the UK can be charged up to £9,000 a year by Scottish universities.
Students must apply to the Student Awards Agency for Scotland for payment of their tuition fees every year.
Ministers in Northern Ireland have said that tuition fee levels will rise only in line with inflation for home students until 2016. They were capped at £3,465 in 2012 and will be £3,685 in 2014-15.
Fees for other UK students will not be capped "but are not expected to exceed £9,000", the Northern Ireland Executive says.
After graduation, Northern Irish students start to repay their loan once they are earning more than £16,000 a year. For those starting degrees in 2014-15, the repayment threshold will be £16,910.