University facilities 'influence students' choice'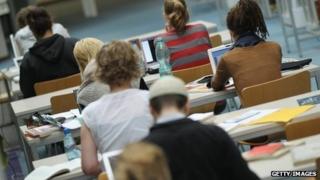 The quality of facilities at UK universities plays a big role in which establishment students eventually choose, a survey suggests.
More than three-quarters of 2,000 students questioned said the facilities at their prospective university influenced their decision.
The poll found the library was the most used facility, and 91% rated overall provision good or excellent.
Universities acknowledge students want good facilities for the fees they pay.
The survey, conducted by One Poll on behalf of the Association of University Directors of Estates (Aude), found 90% of students polled thought their university buildings were well looked after.
After the library and IT provision, the most used were the sports provision and then the students' union.
Asked which luxury item they would like to bring with them from home, 40% said a flat-screen TV or other technology.
A chef and a cleaner were each cited by 19%, while 18% would like to bring their parents.
Andrew Burgess, chairman-elect, at Aude and deputy chief operating officer at Loughborough University, said: "There is a clear link between the buildings and accommodation on offer at a university and the desirability of that establishment to potential students.
"With the [higher education] sector becoming increasingly a buyer's market - more choice for students who are paying increasing tuition fees (currently up to £9,000 a year) - directors of estates always have to keep students at the forefront of their decision-making.
"However, this is only one side of the coin. In light of government spending cuts and slowing growth, development projects have to be both value for money and state of the art to attract students and enable universities to compete on an international level."