Degree checks 'uncover grade fraud'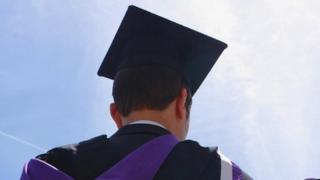 Almost one in 10 university degrees claimed by graduates have "errors", such as wrong grades or subjects, according to the agency which carries out checks for employers.
The Higher Education Degree Datacheck (HEDD) says they also see degree certificates from bogus universities.
Some errors could be honest mistakes, but there is also clear evidence of fraud, says HEDD's Jayne Rowley.
"Many more cases go unnoticed or undetected," she says.
HEDD, set up two years ago with funding from the Higher Education Funding Council for England, provides a service to verify degree grades, such as for job applications or for entry into postgraduate courses.
It now covers 16 universities and says it is adding about one university a month to its checking service.
Grade inflation
But it has found that 8% of the degrees presented so far, out of more than 20,000, cannot be verified.
This can include "human error", such as a misunderstanding about a graduate's name. But there also appear to be attempts to falsify degrees.
Ms Rowley says this includes degrees where the subject studied has been changed - and others where the grade is incorrect.
The most common type of "mistake" is to claim a first-class degree - when in fact a lower grade had been awarded.
Ms Rowley says that this might reflect the high proportion of students who now achieve an upper second - or 2:1 degree.
Twice as many students now achieve a 2:1 as a 2:2, which was once the most common degree.
She suggests that wanting to stand out from competitors in the jobs market might be behind attempts to inflate degree grades.
Another pressure, she says, might be that the high prevalence of 2:1s might make older workers want to upgrade their lower degree from decades ago.
"Perhaps they feel that the third class degree from a former polytechnic isn't appropriate to the senior position that they are in and are therefore tempted to embellish," she says.
There are also false certificates presented. The more obvious fakes stand out because they are covered in "Latin and gothic writing", she says.
And there are degrees claimed from entirely bogus institutions, such as the "degree mills" which sell qualifications online.
But there are also more sophisticated frauds with "very good" copies of documents.
"It's incredibly important that employers validate who they are recruiting," says Ms Rowley.