Evolution exam questions cannot be blocked, says Ofqual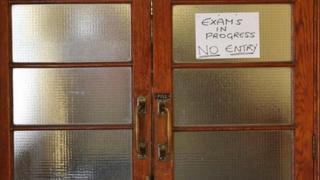 Schools will not be allowed to screen out exam questions which contradict their religious ethos, says England's exams watchdog.
Ofqual says blocking out questions on exam papers will count as "malpractice".
It follows reports of a Jewish school redacting questions about evolution in a GCSE science exam.
The OCR exam board, which set the science paper, says schools must not "tamper with question papers".
In response, a representative of the National Association of Orthodox Jewish Schools said the association was seeking advice on this "very concerning matter".
Earlier this month, Yesodey Hatorah Senior Girls' School in Hackney, east London, was criticised for blacking out questions about evolution in a GCSE science paper.
It meant that pupils could not answer the questions.
'Not allowed'
It also raised the issue of whether faith schools could opt out of questions in public exams if they clashed with their religious beliefs.
Ofqual has now written to all exam boards explaining that this is not permissible.
"Having looked into the issue, we concluded that while the practice was very rare, it should not be allowed," says a spokesman for the exam watchdog.
"Denying learners access to all the questions on a paper prevents the candidate achieving their full potential and therefore disadvantages them. It also threatens the validity of the qualification.
"If awarding organisations suspect that schools or centres are redacting exam papers in the future we would expect them to act in the same way as they would for any other case of malpractice."
The OCR exam board says two schools redacted exam questions last summer.
It has issued a policy statement saying that schools are not permitted to make changes to exam papers before they are seen by students.
Richy Thompson of the British Humanist Association welcomed that news that schools would not be permitted to "censor exam questions".
"Every child has a human right to scientific knowledge, and evolution is fundamental to understanding how life came to be," he said.
Jonathan Rabson, executive director of the National Association of Orthodox Jewish Schools, said that the association was "very surprised that there has been no consultation, and we are considering our position as this statement has come without any notice".
Mr Rabson said that he was surprised that this ruling had been made in a "country famous the world over for tolerance of faiths, where faith schools regularly come top in the league tables and are highly valued for their contribution to education".