Beyond exams: Schools assess pupils' other talents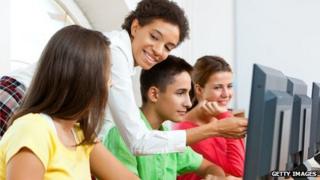 Lighter evenings are finally here, heralding the season of school exams.
But an increasing number of schools are looking at different ways of assessing their pupils' abilities and aptitudes.
Many have introduced psychometric assessments as a way of measuring, developing and instilling character and resilience into pupils.
Those are qualities business leaders want the education system to concentrate on, with the support of all shades of political opinion.
There are various kinds of psychometric assessments, but in the interests of BBC News (for whom I will pay any price, bear any burden) I took one.
'Brave?'
Sally Wells from Thomas International, one of the leading assessment providers, agreed to help me through a Personal Profile Analysis (PPA).
I was sent a link by email, and was faced with a series of 24 questions.
The key to the assessments, Sally told me, is that they have to be completed quickly.
I had to say which adjective was most like me and least like me, for example, brave, inspiring, submissive and timid.
I do not think of myself as timid, so that part was easy. But inspiring? Brave?
The clock was ticking, and I just went with gut instinct.
I finished the test in seven minutes.
"You are precise, accurate, dependable, sincere, assertive, loyal and organised," Sally divulged.
By this time I was blushing, but there was even better news.
"You are also reflective, perfectionist, serious, withdrawn, systematic, detailed, logical, adaptable, quiet and sceptical," she continued.
"And you ask, 'How? Why? And what?'"
As this is pretty much how I have earned my living for the past 25 years, this should not have come as a surprise.
But as Sally continued, I was genuinely astonished by the detailed picture she had been able to build up of my character strengths and weaknesses.
"Due to your ability to stand back, you can make logical decisions, uncluttered by personal involvement. But those decisions are unlikely to be made quickly, and you may resent being pressurised into any form of decision making."
I was sent a detailed assessment, and it rings true to me. But how could it help a teenager?
Sally Wells told me that assessors talk to pupils confidentially one to one, and often that conversation alone is enough to make them feel better about themselves.
"It gives them the opportunity to take ownership of their own behaviour," she said.
'Not about exams'
Woodhouse Grove School in West Yorkshire was founded 200 years ago by Methodists hoping to instil the virtues of their faith into a new generation.
It has 1,000 pupils aged from two and a half to 18, and decided to use psychometric assessments for 14- to 15-year-old pupils in 2012.
Louise Watson, the school's senior tutor, is an enthusiastic supporter of the assessments.
"They are a chance for a pupil to talk to someone who doesn't know them, has no preconceptions about them, but who has real knowledge of the real world.
"It's not about exams or just careers, it's about development.
"The assessment gives pupils a positive set of words that they can use about themselves.
"Rather than pigeonholing themselves, the assessments allow them to see a bigger picture.
"We hear comments like, 'I can't believe how well they got me.'"
The growing use of the assessments comes at a time when employers and politicians are talking about ways of developing resilience and character in pupils, so that they can enter the jobs market as rounded citizens.
Team-working
There is an emerging consensus that exam results alone are not enough to judge a pupil.
Louise Watson believes the assessments can play a key part in the promotion of resilience and character in pupils, but that they also contributed to a significant improvement in GCSE results.
"The students come out with a personal action plan for development. It leads directly on to the development of skills that exams simply don't measure, but which are vital to success in life.
"Leadership, team-working and peer support are all vital for successful careers - whatever field they decide to go into."
She says 45 of the last group of pupils to be assessed have been inspired to get involved in community work as a direct result.
"They have seen the benefits of developing themselves and promoting their skills," she said.
"That's certainly something that came out of these tests. Even pupils who might be otherwise considered 'under-aspiring' have gained from them."
She believes the programme has also had significant benefits for teachers.
"It's helped us look at ways of adapting our teaching to take account of the strengths and aptitudes of an individual pupil."
As for me, I am delighted to have a positive set of words I can use about myself although "withdrawn". Really?