'Go Away!' Why younger siblings are rebuffed at school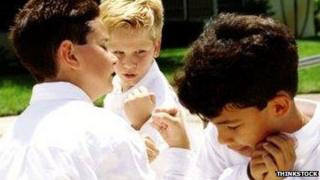 Younger children may think starting school will enable them to spend more time with their big brother or sister.
But new research from Australia suggests that hope is not shared by the older sibling.
The study, quoted in the Times Educational Supplement (TES), found younger children looked on older siblings as heroes.
But it seems the older children often prefer to hang around with anyone but their younger family member.
The study was carried out by academics from Charles Sturt University in New South Wales, and was published in the International Journal of Early Years Education.
It looked at children from four schools and 10 pre-school services and asked them to imagine what school life might be like.
One in 10 of the predictions made involved an older sibling in some way.
'Baby stuff'
The thought of being able to play with siblings during breaks was found to be is an exciting prospect for children preparing to start school.
One child who took part in the study, described her idea of school: "You will play in the playground. Do Maths. Get to see my sisters."
However, it seems the older family members are not as keen on the idea of spending time with the little ones.
In one of the studied schools, where older children were asked to spend time in the reception class, one child dismissed the idea as "baby stuff, because my little sister is here."
The researchers also found many older siblings are reticent about recounting what actually happens at school to their younger family members.
Kate Fallon, the general secretary of the Association of Educational Psychologists, told the TES that teachers in primary schools stress the importance of progressing to the next stage, and younger siblings could be regarded as something that might pull a child back.
"When a younger child comes in, they won't necessarily show you the respect someone else's sibling might.
"They've fought with you and they've seen you cry."
She says looking after younger siblings at school does not always come instinctively, and has to be cast in a positive light.
"It has to be promoted as becoming much more grown-up. You're being a role model."
imagined education would involve spending time with their older sibling during breaks and lunchtimes.