Puppets and placards as NUT strikers take to streets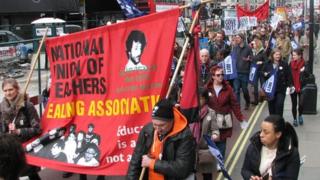 Thousands of NUT members marched in London as part of their protest over pay, pension changes and working conditions. The Department for Education says it cannot see why the teachers took action as talks on these issues are continuing. Our education reporter Patrick Howse followed the protesters.
It was a bit like Hamlet without the prince - the man whose name was on everyone's lips was absent.
Socialist Worker placards proclaiming Gove Out! were waved alongside blue NUT flags and branch banners.
Drums, whistles and even Michael Gove in puppet form accompanied the striking teachers as they marched through the heart of London to Westminster.
The education secretary certainly seemed to be regarded as the villain of the piece.
One protester was a little shame-faced when I suggested as much to him.
"I didn't want to make it too personal," said Chuck Dreyer, a freelance teacher from Haringey.
The evidence suggested otherwise, because he was selling T-shirts with Gove Out! emblazoned on them.
"You can't just come in as a journalist, or anything else, and think you know teaching better than teachers," he said, referring to Mr Gove's career in newspapers before entering Parliament.
'It is personal'
Dan Bateman, a primary school teacher, uses puppets in class to help with lessons.
He had converted a Scrooge puppet he had made for World Book Day into an effigy of Michael Gove.
There was an obvious degree of personal antipathy towards the education secretary.
"It is personal," he said. "Teachers use so much of themselves when they teach that everything becomes personal.
"He's not listening to us, and frankly I trust my union and I don't trust him."
The marchers chanted, "What do we want? Gove OUT!", much to the amusement of some of the onlookers.
Most were foreign tourists, bemused by the spectacle and wholly ignorant of Mr Gove's existence before today.
'Gove is great!'
But one, who gave his name as Chakib, began shouting "Gove is great!" in response.
"This march is a waste of everyone's time," he told me. "It has put kids out on the street instead of in school.
"Parents have had to take time off work to look after their kids - schools are quick enough to take parents to court if they don't send their children to school."
Peter, who runs a stall on Regent Street selling tour bus tickets, was standing nearby.
"I just wish they wouldn't come down here," he said. "It closes off the street and I'll probably lose £300 as a result of this in lost sales."
Another passer-by, Debbie Burrows from Dorset, was altogether more supportive of the marching teachers.
"I'm actually quite impressed," she said, "and I can understand why they might be upset.
"Everyone has a right to protest, and I'm impressed by the way they are doing it."
Honks of support from passing lorry drivers were greeted with cheers and whistles from the marchers.
Near Westminster Tube station I saw a woman with her two school-aged children watching the rally pass by.
'Disruptive to parents'
Joanna Wells, from Chiswick, told me she had taken the day off to look after her sons.
I had hopes that I had found someone who would agree with the Department for Education's view of the strike, that it was disruptive to parents, harmful to children's education and ideologically driven.
However, she was strongly supportive of the NUT action.
"I think they do an incredibly difficult job, and it seems it is becoming increasingly difficult," she said.
Towards the end of the rally I caught up with three special needs advisory teachers from Tower Hamlets, who put the case for the strike.
"Teachers are always made to feel they are not good enough, particularly now, by this government," Rachel Watkiss told me.
"I go into lots of schools and I'm so impressed with young teachers, by their drive and their dedication.
"But they are made to feel they're not good enough."
"The workload for new young teachers is driving them from the profession," Roger Ward added.
"Sixty hours a week is the average. It has never been like that before. We are all at the end of our careers, but we are concerned about the young."
His colleague Lynne Roberts agreed.
"As older teachers, we don't know how they cope with the workload."