More student loans won't be repaid, government believes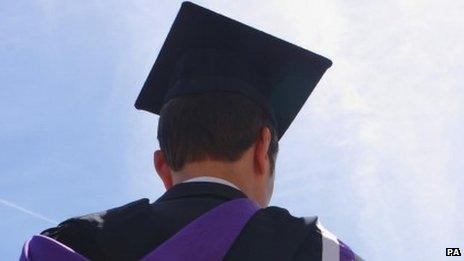 Around 45% of university graduates will not earn enough to repay their student loans, the government now believes.
If the figure reaches 48.6% experts calculate that the government will lose more money than it gained by increasing fees in England to £9,000 a year.
Students do not pay the fees upfront and only start repaying when they are earning at least £21,000 a year.
But a government spokesman said these were estimates based on long-term forecasts and could change.
The estimates have been calculated to take account of the change to higher education funding in 2012-13, when universities in England were allowed to triple yearly fees to £9,000.
The rules are different elsewhere in the UK - students from Northern Ireland who also study there will pay a maximum of £3,685 in 2014-15, while Scottish students pay no fees if they study in Scotland.
But students from Scotland or Northern Ireland can be charged up to £9,000 if they study elsewhere in the UK, and the same is true for students from elsewhere in the UK studying in Northern Ireland or Scotland.
Students in Wales pay a maximum of £3,685 towards their tuition, regardless of where they study in the UK, with the remainder of the fee covered by a grant funded by the Welsh government and local authorities.
The 2012 fees increase followed months of political wrangling and student demonstrations.
Ministers estimated that 28% of loans would never be paid back in full when factoring their calculations.
But now repayment levels are projected to drop so low that the government is close to getting back less money than it would have by keeping the old system.
Responding to a parliamentary question, universities minister David Willetts said the government had been reviewing its modelling on student loans and now estimated that about 45% would be written off - an increase from 40% six months ago.
Economics consultancy London Economics said the "tipping point" at which the costs of the new system will exceed those of the old one would be reached if 48.6% of all student loans were not repaid.
Labour's shadow universities minister, Liam Byrne, said the current system of student finance was "indefensible".
"What today's figures show is that the government tripled fees, put students in thousands of pounds of new debt but the system now costs practically the same as the old system because so few students can afford to ever pay their debts back," he said.
He added: "It is clear we have built the student finance system on top of a money pit."
BBC political correspondent Vicki Young says the government's projections for the student loan system are subject to change as they are highly dependent on the UK's economic circumstances and the growth of graduate earnings over the next 30 years.
A government spokesman said the reforms were putting higher education on a "sustainable footing for the long-term".
"Our universities are now well-funded and this is driving up the quality of the student experience and helping to stimulate economic growth," the spokesman said.
"We are also protecting those on lower incomes and those from poorer backgrounds are applying in record numbers."
He said the estimates were based on a "prediction of economic circumstances some 35 years in the future", adding "estimates can and will continue to change".