Religious education 'helps communities get along'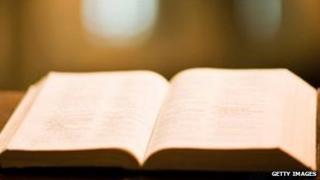 Shortages of qualified religious education teachers could harm inter-community relations, a group of MPs and peers says.
The All Party Parliamentary Group (APPG) on RE says it can play a role in defeating religious extremism.
The group says the potential for conflict in multi-faith areas is reduced if young people are given classes on different faiths.
But it warns some government policies are "lowering the status" of RE.
The APPG says RE gives children chances to consider religious, and ethical issues from alternative points of view.
It concludes that RE can help pupils become "informed, active citizens" by addressing contentious issues and studying why misconceptions arise about some groups.
'Myths and stereotypes'
The group's chairman, Stephen Lloyd MP, said RE teaching was "more important than ever before".
He said religions were "often portrayed inaccurately" in society at large, and teaching RE could break down the prejudice that could develop as a consequence.
"Myths and stereotypes permeate the popular media and have become embedded in the national psyche", he said.
"Schools and colleges are a safe and trusted place to explore religions, conflict and world views in a constructive and positive way.
"There are a large number of excellent RE teachers in schools and colleges nationwide who are doing an outstanding job in linking RE back to their communities.
"This prepares children for the challenges and opportunities of multicultural life, and helps them live harmoniously with others."
'Lack confidence'
The group has raised concerns about this issue before, highlighting the number of teaching assistants being given responsibility for RE lessons in primary schools, and pointing out that "about half" of primary teachers and trainee teachers "lack confidence in teaching RE".
In a report published last year the APPG said "a range of government policies" - including the introduction of the EBacc and the removal of the RS GCSE Short Courses from the league tables - are "contributing to the lowering of the status of RE in some schools, leading to a reduction in the demand for specialist teachers".
It also said it was "unacceptable" that over 50% of RE teachers at secondary level have "no qualification or appropriate expertise in the subject".
A Department for Education representative said: "Religious education remains a compulsory subject in the national curriculum for children at primary and secondary schools.
"We are establishing a specialist subject group formed of religious education experts to identify the challenges facing schools and ensure that teachers have the support and resources they need to deliver high quality RE lessons.
"We will also continue to highlight examples of best practice by working with organisations such as the Religious Education Council."
The APPG's report has been welcomed by the Association of Teachers and Lecturers (ATL).
The association's general secretary, Mary Bousted, said RE played a vital role in helping young people become "engaged citizens", and that RE teachers were under "immense pressure".
"Schools that give RE a proper place in the school curriculum are providing a safe space for young people to raise and discuss questions about religion and belief," she said, adding "high quality training" for RE teachers was vital.