Ofsted inspectors 'lack key skills' required for job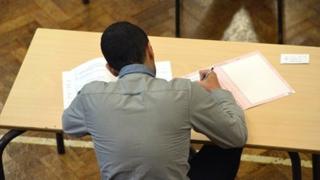 Many Ofsted inspectors do not have the skills needed to make fair judgements of schools, a think tank report says.
The Policy Exchange report says many are employed part-time by private firms, and lack experience of primary teaching or special needs training.
It also calls for inspectors to pass an accreditation exam before they go into schools.
Ofsted, which carries out inspections in England's schools, said it would study the recommendations closely.
The report, Watching the Watchmen, recommends that Ofsted abolishes or radically reduces the number of inspectors it uses from private firms. It was compiled after researchers consulted 300 head teachers.
Report author Jonathan Simons said the quality of schools was critical to the future prospects of the country.
He said: "That is why we need an independent schools regulator that inspects all schools freely and fairly. But it is also why we must make sure that the school inspection regime is fit for purpose."
'Test inspectors'
He added: "More needs to be done to drive up the quality of inspectors. Heads and teachers must feel confident that the person running their eye over their school is a specialist, preferably with recent teaching experience.
"Inspectors don't need to be rocket scientists but they must also have the ability to interpret the increasing amounts of data on the performance of schools, and understand the different ways in which schools are now operating.
"Schools should not be forced to second-guess what the inspector coming through the door will be like."
The report said one key issue was the lack of ability to analyse data as a key issue and it called for a new test to be introduced that would demonstrate that a would-be inspector had the required skills.
It also calls for all Ofsted inspectors to have relevant and recent teaching experience in the kinds of schools they are assessing.
'Unreliable observations'
Currently, inspectors are always required to have five years' teaching experience, and relevant and up-to-date knowledge of the area they are inspecting.
The report also calls on Ofsted to think hard about its use of private contractors in the employment of inspectors.
Currently, three regional contractors employ around 3,000 inspectors in England- 1,500 of whom carry out school inspections. Ofsted itself directly employs 300 to 400 inspectors - around half of whom work in schools.
Wales, Scotland and Northern Ireland have their own separate schools inspections systems.
The report also says there needs to be a greater focus on struggling schools.
Michael Cladingbowl, Ofsted's national director for schools, said the education regulator had played a major part in raising the standard of schools in England over the past 21 years.
He said: "We are now looking at how inspection should develop in the coming years to reflect the fact that eight out of 10 schools are now good or outstanding.
"We welcome the Policy Exchange's recommendations - many of which chime with our own - and will be studying them more closely in the coming days.
"Head teachers tell me that schools would benefit from more regular contact with Her Majesty's Inspectors and we know parents would value more up-to-date information."
Russell Hobby, general secretary of the National Association of Head Teachers, said: "Schools must be inspected by someone with relevant and recent experience. It is simply no good, for example, for a special school to be inspected by a non-specialist or early years to be inspected by a sixth form specialist.
"Frequent changes of inspection guidance - to reflect the priority of the day - do not help either teams or schools keep pace. The lack of an independent complaints process also damages credibility."
Shadow Education Secretary Tristram Hunt said Michael Gove had attempted to politicise Ofsted but this had been "well and truly rejected by this report". He added that the report's analysis was a welcome contribution to the debate.