Why the Great War still fascinates the young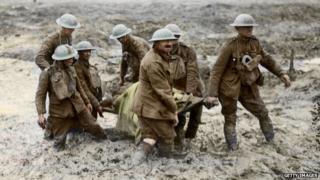 There has always been a strong, evocative connection between schools and World War One.
It might be because many of the soldiers who fought were little older than schoolchildren, almost stepping from the playground to the battleground.
With the approaching centenary of the outbreak of the war, a major conference in London has been examining how secondary schools should commemorate the conflict.
The organiser of the event, Anthony Seldon, master of Wellington College, says that World War One retains an enduring fascination for teenagers - more so than World War Two.
He says that the embattled poetry of writers such as Wilfred Owen and stories from the trenches seem to connect with the anxieties of teenagers. They identify with the emotional terrain of the battlefield.
"It provides an outlet for their feelings, it's cathartic," he says.
"The poetry allows them to project their own feelings of depression and fear."
Dr Seldon says it is also important to remember the immense shadow World War One cast over schools in the 20th Century. It had a traumatic impact that lingered through the Second World War and into the 1950s and 1960s, he argues.
At his own school, Wellington College in Berkshire, there were 725 former pupils who were killed.
Dr Seldon says that for head teachers and staff and pupils this relentless toll was "profoundly harrowing". There were also deaths of pupils' fathers and brothers and staff faced the loss of their own relations.
"The worst thing for a head is the loss of a life, but having to do that day after day... Some heads never recovered," says Dr Seldon.
After the war, many teachers recruited into schools would have been returning veterans - many of whom would have found it difficult to talk about their experiences, says Dr Seldon.
"In the Twenties and Thirties, the generation who came back made them pretty dour places."
And some of these former soldiers, with memories of the trenches, would have still been teaching into the 1960s.
Dr Seldon has described a school chaplain who had to spend the war attending hundreds of executions of deserters, including a 19 year old who had broken down after three years at the front.
War cemeteries
It is hard to imagine how they would have returned after the war to their school life.
The conference, Schools and the Great War Centenary: How Schools Should Best Prepare, heard from broadcaster Jeremy Paxman, about how the impact of the war was felt by subsequent generations.
In his own family, he says a great uncle killed at Gallipoli was a constant memory, which he described as an "active presence or a present absence".
Modern Britain was shaped by the collective experience of war, he told teachers at the conference.
"You cannot exaggerate the significance of this event."
But in terms of how we interpret the Great War generation, he said there were big cultural differences.
"There was what is notably absent now... a sense of duty," said Mr Paxman.
"If you consider the way we lead our lives now, we lead our lives essentially in an atomised fashion, pursuing personal pleasure.
"It's all about personal choice. Do what you want, please yourself. This was a world that was unknown to young people in 1914."
But he said that it remained difficult to know how to commemorate the war.
He rejected "idiots" who wanted street parties and suggested something more restrained.
"Quiet reverence is the least we owe these people," he said.
Author Michael Morpurgo said that all children should be expected to visit war cemeteries, both Allied and German.
Mr Morpurgo, who wrote the war novel and drama War Horse, said that fiction could help make a personal connection, so young people could make sense of the huge scale of the losses.
"It's all too massive to comprehend such suffering," he said.
Ian Hislop, editor of Private Eye magazine, recommended that schools should teach pupils about a satirical newspaper, the Wipers Times, produced by soldiers serving in the war.
Describing himself as being like a "supply teacher with a video", Mr Hislop said the Wipers Times was "instinctively funny and rebellious" and captured the sense of absurdity felt by front-line soldiers.
The level of self-aware humour, and the "resilience and stoicism", showed that we should not be "condescending" when considering the events of 1914-1918.
'Cult of names'
"It is really important not to patronise the past and to assume we know much more," he said.
In the wake of the war, schools struggled with how they should commemorate what had happened. And Dr Seldon said the evidence of this remains in the "huge proliferation of memorials" that were put up in schools, solemnly listing the dead.
Prof Jay Winter from Yale University told the conference of the "cult of names" in memorials.
Across all sides of the Great War, there were five million soldiers who had died without any known grave, said Prof Winter. All that was left as a physical memorial were their names, which took on a symbolic significance in attempts to remember and commemorate.
Prof Winter also argued that the immense psychological impact of World War One was an unresolved "traumatic memory", which was like a "never closed wound".
Dr Seldon also argued there should be lessons learned for the future - and called for a greater emphasis on teaching about international organisations such as Nato, the United Nations and the European Union.
He warned against a "retreat into nationalism and isolation" and said he was worried when he heard "politicians today playing on prejudice and ignorance".
Mr Paxman reminded the audience of how difficult it must have been for returning soldiers to explain their own experiences.
There was a "chasm of understanding," he said.
Find out how Britain let 250,000 underage soldiers fight in WW1 and more about the WW1 Centenary.