Advice for students offered online by 'virtual' service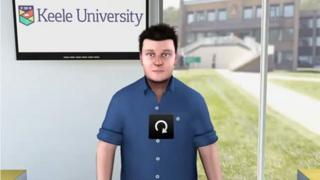 A "virtual online advisory service has been launched that will try to answer questions concerning personal problems affecting students around the UK.
The avatar has been created by Keele University in Staffordshire.
Nicknamed "Sam", it will give advice on money problems, loneliness, academic worries and relationships - and is available for free around the clock.
Students submit questions online and receive replies either in a spoken voice or as a written message.
They will be told where they can obtain more help, either from university staff or from support services such as the Samaritans.
The project, funded in part by the Higher Education Funding Council for England, is aimed at helping young people living away from home for the first time.
They will be able to pose personal questions in a way that might be less embarrassing than asking a member of staff.
It also reflects the growing importance of the "student experience", with those paying £9,000 per year for courses expecting to be treated as consumers as well as learners.
No hangover solutions
Simone Clarke, Keele University's director of planning and academic administration, said students wanted "to be able to access information immediately, wherever they are in the world".
This will "enhance, not replace traditional university advice services", she added.
"Sam" - short for Student Advisory Model - responds to enquiries such as how to obtain help if feeling depressed or worrying about exam results.
It also shows the questions asked by other students, such as "how do I make friends" and "I haven't been going to my lectures; what should I do".
But technology has its practical limitations.
Enquiries such as "I've spent all my student loan, what should I do" and "how do I cure a hangover" receive the same reply: "I'm sorry, I don't understand your question."