DfE announces details of infant free school meal plans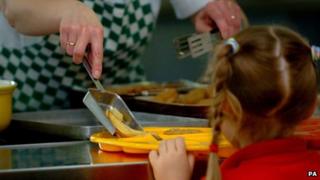 The government has set out its plan to give all pupils in England free lunches for their first three years in school.
Among the measures announced is £150m to help schools expand their kitchens and dining facilities.
The education department says its £1bn package will ensure that from September "every infant sits down to a healthy meal during the day".
The DfE is also consulting on ways to simplify school food standards in an attempt to cut bureaucracy.
Last year the deputy prime minister announced £22.5m to help small schools prepare for the implementation of the scheme.
Kitchen facilities
This announcement confirms that each small school will receive a minimum of £3,000 funding to extend or improve kitchen facilities, and address transitional costs.
This is in addition to the £2.30 per child per day each school will receive in revenue funding.
The measures were announced by the Schools Minister David Laws.
"With six months to go, we want to encourage all schools to step up their preparations and these extra measures will support them in doing so," he said.
Mr Laws stressed the health, educational and economic benefits of the plan.
"We know from pilots that children in schools that offer universal free school meals are academically months ahead of their peers and also more likely to eat vegetables at lunchtime instead of less healthy food like crisps," he said.
"Parents presently spend around £400 for lunches for each child every year and we want to do all we can to help ease the pressure on household budgets - putting money back in families' pockets", he said.
Among other measures announced on Thursday is the creation of a support service, including a national helpline run by the Children's Food Trust, to advise schools.
'Practicalities to be addressed'
Labour says that despite today's announcement, it is "still not clear where the money is going to come from".
The National Association of Head Teachers (NAHT) welcomed the announcement, but said there was still a lot of work to be done before the scheme is implemented in September.
Russell Hobby, the NAHT's general secretary, said all schools supported the principle of providing nutritious lunches to to pupils, but that no one should "underestimate the challenge of delivering it".
"There are practicalities remaining to be addressed on how every primary will be able to deliver the full service by September", he said, "especially for those without existing catering facilities on site and with so many other initiatives hitting schools at the same time.
"In fact the timing could not be worse in terms of overload."