Third of early years providers 'less than good'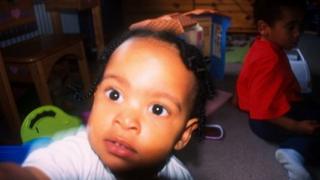 Thousands of nurseries and childminders in England are not giving youngsters a good standard of care and education, statistics suggest.
Figures from the watchdog, Ofsted, show a third (33%) were considered to be no better than satisfactory by inspectors.
Inspections of more than 17,400 providers between 1 September 2012 and 31 October 2013 rated 25% as "satisfactory" and 8% as "inadequate".
Ofsted said it had "toughened up" the way it did early years inspections.
The statistics showed about 5,810 nurseries and childminders were judged to be less than "good" in the 14-month of inspection period.
Three in five (60%) were found to be "good", while 7% were considered to be "outstanding".
A breakdown of the latest statistics shows that overall, more childminders were given lower ratings than nurseries.
In total, just over a third of childminders (34%) - about 2,920 - were given a rating no better than satisfactory, and of these, 7% were judged to be "inadequate".
And just under a three (32%) of nurseries - about 2,140 - were in the same category, with 9% of these rated "inadequate".
In the academic year 2011-12 about 26% of nurseries and childminders had been rated as less than good.
Ofsted said that the rise may be partly down to some changes in how inspections were carried out, as well as more focus on the places where there were causes for concern.
The latest figures give the final picture before a major overhaul of early years inspections, which was introduced by Ofsted in November.
The inspectorate has made it clear that only ratings of "good" or "outstanding" are now considered acceptable.
Those that fail to meet these standards could face having their registration cancelled - effectively closing them down.
'Toughened up'
Announcing changes to the early years inspection regime last year, Ofsted chief inspector Sir Michael warned that inspectors would be tougher on poor nurseries and pre-schools, because "no-one thinks they should be allowed to languish in their inadequacy".
An Ofsted spokesman said: "We have toughened up the way we do early years inspections.
"Ofsted has made clear that only good or outstanding is good enough for young children. Those nurseries and pre-schools judged to require improvement will be inspected again within one year."
Neil Leitch, chief executive of the Pre-school Learning Alliance, said: "We remain concerned that Ofsted's 'tougher' inspection framework has resulted in such a significant increase in 'inadequate' judgments, and decrease in 'good' and 'outstanding' grades, compared to previous years.
"Again, it is not enough to introduce a more rigorous framework without ensuring that providers have access to the necessary support, training and guidance needed to meet these standards."