Adult courses on balloon art and self-tanning face axe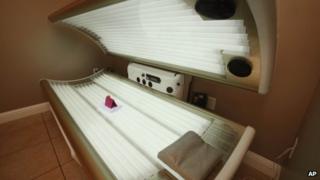 The government is to cut funding to 5,000 adult vocational courses to "simplify and streamline" the adult skills system in England.
Among the courses to go are self-tanning, balloon artistry and instructing pole fitness.
The Department for Business, Innovation and Skills describes these courses as "low value".
The National Institute of Adult Continuing Education says they can be "a way back into learning".
Nearly £200m of the department's adult skills budget will now be redirected towards the "most relevant qualifications".
Skills and Enterprise Minister Matthew Hancock described the current system as "complicated, bureaucratic and hard to understand".
'Meaningful and valuable'
Mr Hancock said the savings plan would make courses respond more closely to employers' needs and give learners a clear route either to employment or further training.
"Small qualifications in coaching angling, aerial balloon displays and self-tanning are not a good use of taxpayers' money or learners' time," he said.
"There are currently 15,400 regulated qualifications, and even with the restrictions we have made so far, 11,000 of them are eligible for government funding.
"We are determined to make sure that people who work hard to achieve a qualification can be sure that it is recognised as meaningful and valuable to employers and that it makes a real contribution to our long-term economic recovery."
The National Institute of Adult Continuing Education (NIACE) urged the government to be cautious.
The institute's chief executive, David Hughes, said he understood the pressures on public funding, and that "there is a definite need for vocational qualifications to be better recognised and valued by employers".
Knock-on effects
"If this achieves that then it will be a helpful move," he said.
But he added that many of the courses the government identified as "low value" did play an important role.
"For many adults, returning to learning can be an extremely anxious experience, especially for those who didn't do well at school or for others who have lost confidence through ill-health or redundancy.
"Cutting off this 're-entry point' could mean many people missing out in the future with obvious knock-on effects for the wellbeing of the economy and society."
The UK Commission of Employment and Skills has welcomed the plan.
The commissioner, Nigel Whitehead, said he was keen to see it was implemented quickly "so that learners and employers can have confidence in the quality and relevance of apprenticeships and vocational qualifications".
The Department for Business says it wants to ensure that qualifications give employers "greater ownership" of occupational standards and qualifications.
It believes courses should attract funding "only if they are valued by employers and offer learners an opportunity to meaningfully progress in employment or further learning".
The department says the regulator, Ofqual, is conducting a review to make sure that the system "consistently produces high-quality qualifications, rather than ones which need to be removed from funding because they don't meet real needs".