Some special needs pupils denied education - ombudsman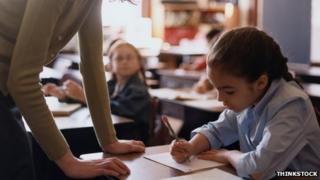 Some children with special educational needs are being left without education for significant periods, a local government ombudsman report says.
The watchdog's report highlights cases of pupils unlawfully excluded from school and denied specialist support.
Others are having their educational opportunities limited due to long delays in providing support, it adds.
The education department says it is overhauling the SEN system as too many pupils do not get the help they need.
The ombudsman receives more complaints about education and children's services than any other area. Some 17% of its 20,186 complaints last year were in this area. And complaints about SEN provision accounted for 8.6% of these.
In its report drawing from cases it has heard, the ombudsman says the most serious area of concern is delays in assessing and providing SEN support, which can often lead to loss of education.
It also says there are cases of unlawful exclusions, in which children are wrongfully pushed out of education because of their special needs.
Under the law, councils are required to complete special needs assessments within 26 weeks of a formal request. But this assessment is due to be shortened to a maximum of 20 weeks under the government's overhaul.
Currently, straightforward provision should be in place within four weeks, while more complex provision should be available within half a term.
In its report, the ombudsman sets out the case of an autistic boy in a mainstream school who lost out on appropriate education for two years because of delays in assessing and reassessing his needs. He also lost out on the development of essential social skills as a result.
The council was ordered to pay a total of £8,250 in compensation to the family.
'Anxiety'
The ombudsman also highlighted as concerning inadequate assessment and inadequate review of statements - the written description of the child's special need - as well as poor planning of the child's support.
The ombudsman cited another case of a boy with selective mutism and severe anxiety, whose final statement of needs was delayed for 15 months.
"The result... was an increase in his already high levels of anxiety about school, and more absences from school during Year 11 at a key time in his school career, which reduced his choices at post-16," it said.
The council was asked to compensate the family with £7,000 for its failure in the case.
Local government ombudsman Jane Martin said children with SEN, and their families, must be treated fairly by councils so they received the support to which they were entitled.
'Greater control'
"It is not acceptable when pupils miss out on crucial education, are unlawfully excluded or have their education opportunities adversely affected," she said.
"A common phrase we hear from families when resolving a dispute about SEN is that it feels like a constant battle. It should not be this way. When things go wrong it is vital that councils act quickly to avoid children being disadvantaged."
A Department for Education spokeswoman said it was overhauling the SEN system to give families greater control and choice over the services they received so their needs were properly met.
"All councils must ensure children are educated in a place which meets their needs and schools must follow our strict rules when excluding pupils," she said.
"We are also spending over £3.5m on SEN co-ordinators in schools to provide targeted support to these children, and have increased funding for schools with high numbers of pupils with SEN and for children with more complex educational needs.
"We are tackling the causes of exclusion by improving the quality of teaching, raising standards in literacy and numeracy, tackling disadvantage through the pupil premium and significantly reforming alternative provision."
David Simmonds, chair of the Local Government Association's Children and Young People Board, said councils were committed to working with mothers and fathers who wanted the best for their children.
"We recognise the current system is out of date and we are looking forward to working in a new regime where mums and dads have a bigger say and councils have the flexibility to deliver," he said.