Gove to write to England's schools to stamp out FGM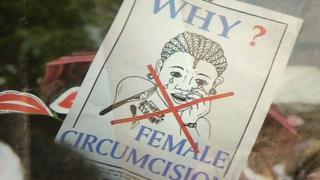 Education Secretary Michael Gove is to write to schools in England to ask them to help protect girls from female genital mutilation (FGM).
Schools will receive guidance before Easter, aimed at stopping "this very serious form of child abuse".
FGM, sometimes called female circumcision, involves the cutting or cutting away of external female genital organs.
It is common in some African, Asian and Middle Eastern communities.
Official figures put the number of victims of FGM in the UK at about 66,000, but this is thought to be an underestimate.
Mr Gove made the announcement after meeting campaigners on Tuesday.
They included Bristol student Fahma Mohamed, who started a petition backed by the Guardian newspaper, asking for Mr Gove to send guidance to schools before the summer, when many girls are taken away to be cut.
The petition, signed by 234,000 people, states that 24,000 girls in the UK are currently at risk of FGM.
In a statement released last night, Mr Gove said: "I was very pleased to meet Fahma Mohamed today.
"She has been running an inspirational campaign. Fahma and her supporters have done fantastic work in raising awareness of female genital mutilation.
"It is a truly horrific crime. We must do everything we can to end it."
This will include signs to look out for that a child may have been a victim of FGM, as well as facts about the practice and a guidance that the legal safeguarding duties teachers and school staff have to children include protection from FGM.
Mr Gove added: "I thank Fahma - and other courageous public campaigners against female genital mutilation - for their efforts.
"We all want to see this very serious form of child abuse consigned to history."
FGM has been a criminal offence in the UK since 1985, but no-one in Britain has been prosecuted.
It is often carried out without anaesthetic and victims are usually aged between four and 10. Some are babies.
The children are cut for cultural, not medical, reasons and campaigners say it is a way of oppressing and controlling women and a practice that can leave life-long physical and mental scars.
Researchers believe most cases go unreported because the girls are young and do not want to speak out against their families.
Earlier this month, schools in Scotland were told all teachers should receive training about the issue and that parents should be educated too.
The Scottish Parliament was told 3,000 girls in Scotland were at risk.
After meeting Mr Gove, Fahma Mohamed said: "I just want to thank everyone for signing the petition. Without them, without Malala and without Ban Ki-moon, this issue wouldn't have been in the spotlight and he never would have agreed to meet us and say yes!".
The student is a junior trustee of a charity called Integrate Bristol.
A spokesman for the group said: "We are thrilled by this positive response and commitment from the Education Secretary. This is big news for the cause and something the young people have been campaigning for over seven years.
"It's time that FGM is universally recognised as a form of child abuse that cannot be ignored by anyone. For too long the UK has been engaging with the rhetoric but not taking serious steps to combat FGM."