Humanitarian aid can benefit donors too, says study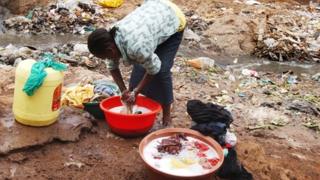 Giving foreign aid can bring important strategic advantages to the donor country, according to a study by US and Australian academics.
The study wanted to test claims that giving humanitarian aid was in the self-interest of the donor as well as the recipient.
It found "compelling evidence" that regional influence could be increased by being a high-profile donor.
The study examined how the US funded overseas HIV/Aids projects.
Researchers at Dartmouth College in the US, the University of Sydney and the Australian National University wanted to see if there was evidence to support anecdotal impressions that giving aid brought "soft power" benefits to donor countries.
'Global opinion'
They concluded that humanitarian aid could successfully change how donor countries were perceived, which would have important consequences for economic and strategic influence.
The researchers say that major powers can gain more influence "by actually doing good".
Using the example of competition between the US and China, the researchers say that "favourable perceptions in global public opinion" will be "a pivotal feature".
But the research says that it has to be the right kind of humanitarian aid.
The ability to shift international opinion, the researchers argue, depends on a perception of long-term commitment and projects that seem to be achieving successful results. They also need to be clearly linked to the donor country.
In such circumstances, overseas aid "can serve an important strategic goal for those countries that give it".
If it appears to be self-serving, propping up an unpopular regime or if there is no clear sign of where the aid is coming from, then there are unlikely to be any positive benefits for the donor country.
The researchers focused on the impact of US projects tackling HIV/Aids in sub-Saharan Africa and how they shaped public opinion in the region.
They concluded that such projects have "a strong positive effect on how US leadership has been perceived in recipient countries".
'Currying favour'
The study highlights that the US spends a much higher proportion of national income on military spending than on overseas aid.
But it argues that in the future, constraints on budgets will increasingly highlight the diplomatic value of spending on aid.
In places receiving aid, the approval ratings for donor countries increased, said researchers.
Countries wanting global influence "may increasingly seek to pursue their international interests through currying favour among foreign elites and publics", say the researchers.
"Foreign aid is an obvious potential tool for this. If targeted, sustained, effective, and visible aid gives the best chance of influence, this may compel great powers to actually do good, and to be seen to be doing so, in order to do well in their global competition for influence."
"Our findings suggest that policy debates about foreign aid programmes should consider not only their efficacy in achieving direct goals, but also their value in improving the donor country's global or regional standing," says report co-author Yusaku Horiuchi, associate professor in the department of government at Dartmouth.