University marking boycott threatens final exams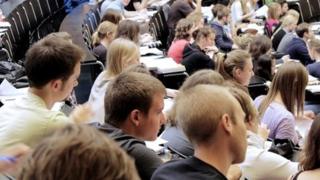 University lecturers are threatening a marking boycott that would disrupt final exams and stop the assessment of coursework, in an escalation of industrial action over pay.
The UCU union says this "ultimate sanction" will begin across the UK from 28 April unless a pay deal is agreed.
The union has rejected a 1% increase for university staff.
University employers say lecturers would face having their pay withheld if they took part in such a boycott.
The Universities and Colleges Employers Association (UCEA), which represents universities in pay negotiations, says there is only "dwindling" support for industrial action and staff carrying out such a "damaging course" could face a full withdrawal of pay.
'Real-terms pay cut'
A marking boycott, a tactic last used in 2006, would mean lecturers refusing to mark exams, coursework, dissertations and portfolios of work.
They would also refuse to attend meetings preparing for exams.
If implemented, this would mean the disruption of the final year exams for those graduating this year.
The lecturers' union says the proposed boycott is intended to force university employers into "meaningful talks" after a series of walkouts.
The UCEA says the union's campaign has lost support among lecturers, with recent strikes having little or no impact.
It says it is disappointed by the threat of a marking boycott that it says is "aimed directly at students' education".
The dispute, which remains unresolved from the 2013-14 pay round, is over a 1% pay offer, which the union says represents a real-terms pay cut of 13% since 2009.
The employers say that in practice pay rises have averaged 3% and that talks should be about next year's settlement, rather than arguing over a rise that has already been implemented.
"It is quite extraordinary for the UCU to be planning yet more action over last year's pay uplifts with the 2014-15 pay negotiations due to start in March," said a UCEA spokesman.
Lecturers have also been angered by average 5% pay rises for university vice-chancellors, who they say now earn an average of £235,000.
"The strong support for our action so far demonstrates how angry staff are at the hypocrisy over pay in our universities," said UCU general secretary Sally Hunt.
"The employers cannot plead poverty when it comes to staff pay and then award enormous rises to a handful at the top.
"A marking boycott is the ultimate sanction, but an avoidable one if the employers would negotiate with us over pay," she said.