Disabled children 'miss out on social activities'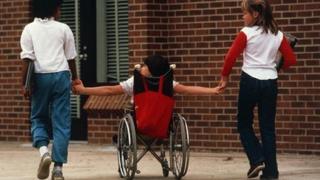 Many families with disabled children feel that their children are missing out on social activities and clubs, suggests a survey.
Disability charity Scope found three in five thought their children did not have fair access to leisure activities.
This included factors such as being made unwelcome by other families.
Nearly 40% of the 550 parents surveyed said their children never had the chance to spend leisure time with children who did not have disabilities.
The charity said it was "not right" that so many disabled children were denied that opportunity.
'Unfriendly'
The survey, carried out with social networking website Mumsnet, revealed that many families with disabled children felt excluded from leisure activities.
"Parents even in this day and age seem to think my son is a leper with a contagious disease, yet he has cerebral palsy," said one.
Parents reported an unwelcoming response from staff, other parents and other children.
Sports clubs were also not always receptive to the idea of being open to children with disabilities.
Another parent said: "I started taking my son to football club. The organisers and other parents were really unfriendly and not understanding at all and it made me feel angry and depressed and my son feel stressed."
Parents called for a better understanding of disability and a more positive attitude from staff and other families using leisure activities.
"Unwelcoming attitudes and lack of knowledge among staff and organisers can lead to disabled children and their families feeling isolated and excluded from community life," said Scope chief executive Richard Hawkes.
"It isn't right that many disabled children and young people never have the opportunity to socialise and play with other children in their area.
"We need to see a culture change in how local groups and centres are planned and run, so that they are open to all children and families."