Government 'overestimates' student loan repayments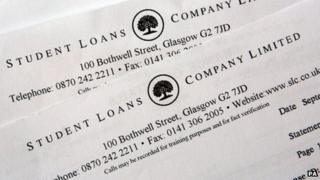 The government is likely to be underestimating the value of student loans that will never be paid back, an influential committee of MPs says.
The Public Accounts Committee reports there is currently £46bn of outstanding student debt on the government's books, set to rise to £200bn by 2042.
The government currently assumes that between 35% and 40% of that debt will never be paid back.
In its report the PAC thinks even that figure might be overly optimistic.
The Department for Business, Innovation and Skills is responsible for the overall system of collecting repayments, which is operated by the Student Loans Company and HM Revenue & Customs.
The Public Accounts Committee says that since student loans were introduced in 1990, there has been "no reliable model for forecasting how much will be repaid to the Exchequer".
'No confidence'
Committee chairwoman Margaret Hodge said the government consistently overestimated the amount of money it would get back from repaid student loans by 8%.
"The Government assumes that 35% to 40% of the total will never be repaid," she said.
"That is some £16bn to £18bn on the current debt of £46bn, and £70bn to £80bn on the estimated value of student loans by 2042.
"But we don't have confidence in those figures. We think that the value of student loans never to be repaid could be even higher."
The report recommends that the department should publish "clear and easily understood annual forecasts of what it expects to collect in the year ahead, and explain any subsequent variances between forecasts and the amounts actually collected."
The committee also believes the approach to collecting repayments "is not tough enough".
"The Student Loans Company has not put enough energy into identifying those borrowers who should be making repayments but have slipped out of contact," Ms Hodge said.
"It knows very little about British graduates who live abroad or about graduates from the EU who have since left the country. Will they ever pay back their loans? The Student Loans Company simply doesn't know."
'Room for improvement'
The service that lenders received from the Student Loans Company was also criticised in the report, particularly the premium-rate phone lines used as a point of contact, and the company's IT systems.
The Department for Business, Innovation and Skills insisted it had "an effective and efficient process for collecting student loans through the tax system".
A spokesman said that system resulted in "high collection rates at a low cost which we believe demonstrates good value for money".
However the department acknowledges there is "room for improvement".
"We need to ensure that all borrowers who are earning over the relevant repayment threshold are repaying their loans including those who have moved overseas after leaving their course," the spokesperson said.
"We are continually improving the collection process for borrowers and we will carefully consider the PAC's recommendations as part of this programme.
"A new and more accurate forecasting system is also being developed."
'Pay back twice'
Rachel Wenstone, vice-president of the National Union of Students, said the report showed the government had "got its maths badly wrong".
"Forcing debt on to students as a way of paying for universities is an experiment that has well and truly failed. We now need to see serious thought about moving the system away from this unsustainable funding burden," she said.
"Graduates now stand to pay back twice, through their student loan repayments and as taxpayers confronting the spiralling costs of this ill-considered scheme."
Sally Hunt from the UCU, which represents lecturers, said the government had "rushed through" student loans "without doing the proper maths".
"Amazingly," she said, "we may well end up with the taxpayer footing a larger bill for students' education than before students had to pay £9,000 a year fees. It is time for a rethink."
Shadow universities minister Liam Byrne called the student loans system "unsustainable", and said it was "going bust".
"It is now clear universities are sitting on flimsy foundations. We now need urgent answers from the government for how they're going to fix this £80bn mess which our country cannot afford. Ministers have serious questions to answer."