Critical teaching comments removed from Ofsted reports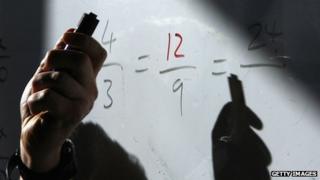 School inspection reports in England have been rewritten to remove criticism of teaching styles, Ofsted has confirmed.
The watchdog said it made "no apology" for changing reports that failed to follow guidance issued last year.
Inspectors were told reports must not give the impression one teaching style was favoured over another.
The NASUWT teachers' union said such changes risked compromising the inspection process.
In December 2013, Ofsted inspectors were told by the chief inspector of schools, Sir Michael Wilshaw, that they must not give the impression the watchdog preferred one particular method of teaching.
New guidance warned them "not to criticise teacher talk for being overlong" and that they should not "bemoan the lack of opportunity for different activities in lessons" unless it could be shown such an approach affected pupils' learning.
These techniques are often associated with a more traditional, "whole class" style of teaching, which some felt the previous inspection regime had penalised in favour of more child-directed learning.
Sir Michael followed up this guidance with a letter in January in which he pleaded with his colleagues to think carefully before criticising a lesson for failing to conform to a particular view of teaching.
Despite the new guidance, some schools have said they have received reports where the teaching style has been criticised.
Following an inspection in December, Forest Gate Community School in east London received a report from Ofsted, saying: "In some lessons, work is over-directed by the teacher and there are few opportunities for students to find things out for themselves."
It said opportunities to allow students "independence to take more responsibility to drive their learning forwards" were "missed".
Jan Tallis, who chairs the school's governing body, told BBC Radio 4's The Report programme: "Ofsted shouldn't be telling teachers how to teach. They should be looking for progress in teaching and learning in particular."
After complaining to Ofsted, the school "then got a notification from Ofsted that they wanted to change some phraseology within the report to now reflect the different advice that they'd been given from the chief inspector", Ms Tallis told The Report.
'Too passive'
Education blogger and teacher Andrew Smith told the programme the school was just one of several to have had their inspection reports revised.
"From Bushey Academy, they've removed a section which said: 'In a small minority of lessons, students are too passive in their learning,'" he told The Report.
"In other reports, they've removed the recommendation that students are required more often to work independently of the teacher.
"Overwhelmingly, the ones that have been removed are references to working independently."
The rewriting of inspection reports has been criticised by the UK's largest teaching union.
NASUWT general secretary Chris Keates said: "If you start a process whereby it becomes acceptable to have a change of the report, that makes a significant difference to why the judgement was reached.
"That should be a concern and that should be something that is looked at very carefully because it could compromise the whole of the inspection process."
Ofsted said only minor changes in wording had been made, which did not affect the inspectors' overall judgment.
But Ofsted's national director for schools, Michael Cladingbowl said it was important to avoid any confusion about what the watchdog expected of teachers.
"I'll make no apology for changing any report where I think that the inspection report itself is not following the guidance we've issued strictly enough."
The Report can be heard on BBC Radio 4 at 20:00 on Thursday 13 February, or afterwards on the iPlayer