Wilshaw 'urged Gove not to drop Ofsted chairwoman'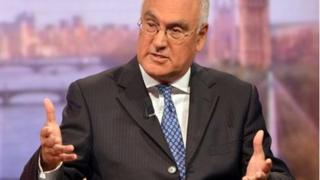 The head of Ofsted has said he urged Michael Gove not to remove the chair of the school's watchdog from post.
Sir Michael Wilshaw said the education secretary had consulted him on his wish "to do something about the chairship".
But Sir Michael told him he wanted Baroness Morgan of Huyton to continue.
Mr Gove became embroiled in a row earlier this month after it was revealed he had decided not to reappoint the Labour peer for a second three-year term as Ofsted chairwoman.
He paid tribute to Lady Morgan's "enormous contribution" to the work of Ofsted, insisting the move was to "refresh" the watchdog's leadership and denying claims it was politically motivated.
But Mr Gove faced accusations by his Lib Dem colleagues of trying to "politicise" the schools inspectorate.
Giving evidence at a scheduled appearance before the Commons education select committee, Sir Michael said he had a "good relationship" with Lady Morgan.
Asked if he had been consulted on the decision to remove her from her post, he said: "I was consulted by the secretary of state on his wish to do something about the chairship of Ofsted, yes."
Sir Michael went on to pay tribute to Lady Morgan, saying she had stood by him over criticism of changes he had made when he had taken up the post of chief inspector of schools in England.
"I did say to the secretary of state that I wanted her to continue, that she was a very good chair and my working relationship with her was very strong," he added.
Sir Michael told MPs that during his time as chief inspector he had enjoyed a good relationship with Lady Morgan, particularly when he had first been appointed and "various storms broke" around his overhaul of inspections, which included introducing no-notice visits and scrapping the "satisfactory" rating.
"There was a huge amount of criticism about Ofsted, and particularly about me, and she stood four-square behind me and gave me a huge amount of support and advice," he said.
"She is a very good chair of the Ofsted board and she has their trust."
Lady Morgan was appointed by the coalition in 2010. Her three-year term of office was due to end in February and will not be renewed.
'Act of fury'
Sir Michael also admitted to MPs that he should have checked the facts before accusing staff at the Department for Education of briefing against Ofsted last month.
The Ofsted boss had hit out at at Michael Gove's department over a newspaper report in the Times that had accused Ofsted of being "mired" in a 1960s ideology.
The article had suggested two right-leaning think tanks, Policy Exchange and Civitas, had been writing research papers critical of Ofsted - and one would call for it to be scrapped.
Sir Michael told the committee he had been furious when, in a response in the Sunday Times, he had blamed Mr Gove's aides for briefing on it.
Mistake
Asked by Education Select Committee chairman Graham Stuart if he had made a mistake in not checking whether the allegations in the Times were true, Sir Michael said: "In retrospect I probably did, but nonetheless, it was a spontaneous act of fury."
Sir Michael added: "The Secretary of State saw me and said that no briefing had taken place, there was no dirty tricks campaign, or anything like that and that he would take action with anyone who was involved in that.
"He is an honourable man and I accepted his word."
The two think tanks have both since confirmed they were working on reports on Ofsted, but denied that their work was being done with encouragement from the Department for Education.
Sir Michael told MPs he had been "absolutely outraged" at the suggestion that Ofsted was "mired" in 1960s ideology, adding he was old enough to remember teaching in those days and how low expectations of pupils had been.
"I was very angry that the authority of Ofsted had been damaged and undermined."
He said many children taught in the 1960s, 70s and 80s, before the introduction of Ofsted inspections, had been failed.
The public row prompted surprise because Sir Michael was appointed by the coalition and he and Mr Gove have been thought of as allies.