School students play part in Philippines typhoon recovery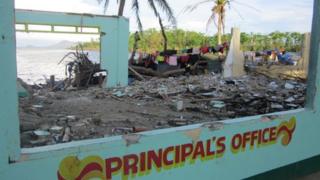 It is now three months since the devastating "super typhoon" Haiyan tore across a swathe of the Philippines, claiming over 6,000 lives and leaving more people homeless than after the 2004 Indian Ocean tsunami.
In a nation all too used to natural disasters, this was the deadliest typhoon it had experienced, putting severe strain on the well-tested relief operations of the Philippine government and the international community.
With so many of the survivors having lost their livelihoods, today the challenges remain huge and aid agencies are talking in terms of recovery and reconstruction taking several years.
For now, many thousands of people are living a makeshift existence, in areas highly vulnerable to future storms.
Among the many initiatives under way to ease their plight is a student-driven range of activities under the wing of the British School Manila.
Backed by $120,000 (approximately £73,000) worth of funding raised by the British School, with support also from other schools in Vietnam, Indonesia, Thailand, China and elsewhere, this particular initiative is now expanding its footprint on the ground in Cebu and in other places that were badly affected by the typhoon, known in the Philippines by the name Yolanda.
Decision making
But when so many donors and agencies are trying to ensure that their aid is put to the most effective use possible, how would a school and its students make a distinctive contribution?
In this case, the school was keen to have students leading the way in deciding how the money would be spent. There was already a youth chapter of the Red Cross at the British School, and its members have played a key role in all of the activities, from the fund-raising to choosing the projects.
During a visit to Daanbantayan in northern Cebu, where damage to homes, schools and other buildings and fishing boats was widespread, the head of the British School, Simon Mann, said he believed that with every peso, they would be able to make a significant difference.
"While there is that overwhelming feeling of enormity, of not being able to do everything - and that will stay with me - I think the opportunity to have our children and the children from other schools around the world connected to a group of people who have tremendous needs - and who had tremendous needs even before this happened - that is something that we are very privileged to do.
"Our job has always been to get our students to places where they can see and understand what is going on."
Relief packages
The British School sent over 1,000 emergency relief packages to the affected areas in the first week after the typhoon. It filled a van full of essential supplies like water purification tablets, blankets, tarpaulins and canned food that were distributed in eastern Samar.
Filipino staff at the school with family members who were caught up in the disaster were also provided with support.
A project repairing classrooms in two elementary schools and one high school on Panay island in conjunction with one of the British School's existing local partners is expected to be completed shortly.
More than 1,000 solar lights have been distributed on Malapascua Island where there were major power problems even before the typhoon.
And now the biggest project is getting under way in Daanbantayan which will involve the rebuilding of 100 homes, repairing 15 fishing boats (each of which generally supports three families) and providing nets and repairing the roof and providing playground equipment for the primary school.
A number of students will help in the rebuilding. This project is expected to take around four months, at which time the next typhoon season will be just around the corner.
Simon Mann said: "I think the key for education for us, is taking students and making them think about these things in a way that will be a lifetime experience, not just going down and building a house and walking away."