State head teacher apologises over fund plea to parents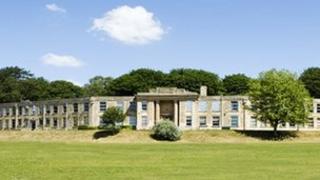 The head teacher of a prestigious state school has apologised after he asked families to make regular financial payments to school coffers.
Andrew Davies, head of Beechen Cliff School, wrote to parents "asking all families for a voluntary contribution" of up to £30 a month.
Parent Jane Middleton said she was concerned about "financial and moral pressure" to contribute to the school.
Mr Davies plans to clarify with parents that any payments are voluntary.
The boys' secondary school, on a large green site in Bath, is well known for its sporting achievements and has produced two Olympic gold medallists and seven international rugby players, as well as Roger Bannister, the first four-minute miler.
'Bleak funding'
In his letter to parents, Mr Davies wrote: "We feel that the opportunities provided for the pupils at Beechen Cliff, both academic and in the broader life of the school, are on a par with any school, both independent and state.
"Despite the bleak governmental funding future we want to keep this and where possible improve upon it.
"This will only be possible with help and support. Independent school fees are normally over £10,000 a year per pupil. At Beechen Cliff education is free but, if parents are willing to give a fraction of that money, we could achieve so much more.
"We are asking all families for a voluntary contribution of £30, £20 or £10 per month to the new top-up scheme. We believe that this isn't a great sum to contribute towards a child's education."
It continues: "Of course we appreciate that some parents do not have the resources to contribute. Thankfully there are some generous parents who are already contributing significantly."
Mr Davies said the voluntary contribution scheme usually brought in about £20,000 a year once gift aid contributions are included.
'Optional extras'
Ms Middleton said she was greatly concerned on receiving the letter and posted excerpts from it on the Local Schools Network website.
She said: "It introduces the idea of parents contributing financially to state schools on a regular basis with the aim of it becoming the norm.
"This undermines our state school system in much the same way that changes to the NHS are chipping away at the idea of a free health service."
She added: "It is putting financial and moral pressure on parents at a time when many are struggling. It ignores the fact that we already pay for state schooling through our taxes."
But Mr Davies told the BBC that the letter's wording was "not helpful" and that he was sorry that he had not checked it more thoroughly before it went out.
He said he would be clarifying, in a school newsletter, that the scheme was entirely voluntary.
No pressure
He added: "We have a range of opportunities at Beechen Cliff which we think is better than most independent schools. So we are very thankful for everything we get."
The school mentions nearly 60 clubs and extracurricular activities. ranging from a Model United Nations to Pistol and Rifle Air Gun Club to Rugby Line-outs on its website.
Mr Davies said the "top-up scheme" had been in operation for 10 years and that every faculty of the school bids for funds from it.
He added that many schools in his locality and around the country operated similar schemes. In the case of Beechen Cliff, he said virtually no child was asked to pay for after-school clubs and extracurricular activities unless external coaches were involved.
"We have an incredible range of activities and we try to make sure that no one is disadvantaged by the lack of money," he said.
'Relatively small amount'
Department for Education guidance says: "Nothing in legislation prevents a school governing body or local authority from asking for voluntary contributions for the benefit of the school or any school activities."
It adds: "When making requests for voluntary contributions, parents must not be made to feel pressurised into paying as it is voluntary and not compulsory."
It says schools may not ask for a direct debit and that it must be clear that all contributions are voluntary.
The guidance also makes clear that schools may not charge for any education that is part of the national curriculum, but that it may charge for some activities known as "optional extras", for example extracurricular sporting activities.
Brian Lightman, head of the Association of School and College Leaders, said: "Many schools ask for voluntary contributions and I am sure schools would want to do it carefully to make sure that those who cannot afford it won't respond to it.
"It's a relatively small amount from parents compared to the much higher fees in the independent sector."