England apprenticeship vacancies 'up 24%', says NAS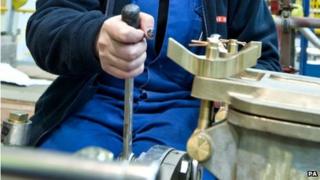 Advertised apprenticeship vacancies in England rose by almost a quarter last year, according to the National Apprenticeship Service.
More than 37,000 places were posted on the service's website between August and October 2013, a 24% increase on the same period the previous year.
The number of people applying for the places rose by 43%, and the government says more places need to be created.
There was a big rise in the number of female applicants for apprenticeships.
The Skills And Enterprise Minister, Matthew Hancock, said apprenticeships offered a chance to "earn and learn".
He said the figures showed a growth in appeal to young people "and yet more young women are seeking out this unique opportunity to gain a recognised qualification while notching up vital work experience."
He said research suggested one-in-five employers had former apprentices working for them at board level, and described the rise in vacancies as "very encouraging".
However, he said demand for places was outstripping supply: "Each online position is attracting an average of 12 applications and I would urge more employers to consider how they can take advantage of this available pool of talent and grow their business through apprenticeships."
'Whole new generation'
TUC general secretary Frances O'Grady described the figures as "heartening" but said jobseekers outnumbered vacancies by four to one, and there was "still plenty of scope" for more employers to get involved in training.
"If the UK economy is to compete successfully against its global competitors," she said, "it needs a highly-skilled workforce and a whole new generation of apprentices can help address the skills shortages that are currently causing many jobs to go unfilled, despite the fact that jobseekers still outnumber vacancies by four to one."
"Figures released last week suggest that as many as a third of UK employers are failing to offer their staff any kind of training," she added.
"Government, unions and employers must continue to work together to put more resources into training and encourage greater skills take-up throughout the UK workforce."
Alex Curling, from the UK Commission for Employment and Skills, said only a minority of businesses were "prepared to give a young person their first job".
"Those that do generally find their newest recruits well prepared for work," she said.
"If they don't, it's usually because of a lack of experience, rather than any specific skill. That's why apprenticeships are so important - they give young people the chance to learn while they earn."
The National Apprenticeship Service's figures show the demand for and supply of places varies significantly between sectors.
The greatest numbers of both applications and vacancies were for business, administration and law places, with 165,410 applications made during the period for 15,550 apprenticeships.
The sector with the highest ratio of applications to vacancies was education and training, which attracted an average of 27 applications per vacancy, followed by closely by arts, media and publishing with 26 applicants per place.
The lowest ratio, 10 applications per vacancy, was to be found in the retail and commercial enterprise, and in science and mathematics sectors.