Schools urged to take two-year-olds into nurseries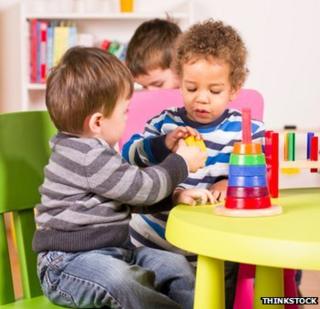 Schools are being urged to admit two-year-olds into on-site nurseries to ease the shortage of childcare.
Education Minister Liz Truss is writing to every local authority in England in a push to get more childcare for toddlers available on school sites.
The government is in the process of changing the law to make it easier for schools to take younger children.
But some early years groups say the move is an attempt to provide childcare on the cheap.
Ministers hope the move will open up the tens of thousands of childcare places needed in many areas of population pressure.
It comes as local authorities are working hard to fulfil a government pledge to offer free childcare places to 130,000 more disadvantaged two-year-olds. And it is still tens of thousands of places short on this offer, which came into force last September.
'Age-appropriate'
The number of places for disadvantaged children is set to rise to 260,000 next September.
These free places can be offered in pre-schools, nurseries or by childminders.
But in an interview with the Telegraph newspaper Mrs Truss stressed the type of childcare she would like to see in schools would be "age-appropriate".
"What you are doing with two-year-olds in terms of singing, reading stories, playing with paint is very different from what you do with a seven-year-old.
"If you have a really high-quality school nursery, children who are behind can catch up with their peers by the time they start school."
The Department for Education is already piloting the idea in 49 primary schools. Each has been given a £10,000 grant to see how childcare and education for two-year-olds can best be provided.
It is also pushing legislation through the Parliament that will remove the need for schools to register and be inspected separately with Ofsted for on-site nurseries.
Rules regarding minimum space requirements for nurseries are also being cut.
But Neil Leitch, from the Pre-School Learning Alliance, said: "From our perspective there is very little talk of what's right for the child in this - it's just an attempt to get cheap childcare."
He also suggested that the government was aware that it had not been able to provide enough free places in existing pre-schools and nurseries.
'Wrap-around care'
He added: "There isn't enough investment in the offer and not enough people are altering buildings to take on more children at the right time."
Anne Longfield, chief executive of 4Children, said the plans for more flexibility were welcome but added: "It's important to recognise that nursery provision for two-year-olds is very different from the formal school day of their older peers.
"Two-year-olds need high levels of support and care to help them learn and develop from skilled staff who can give the specialist support they need."
Councillor David Simmonds, Chair of Local Government Association's Children and Young People Board, said: "Many councils already encourage schools to provide a wraparound service outside school hours, including homework clubs and breakfast clubs.
"It will be helpful for mums and dads if they can access such services at the school another of their children is already at. The funding and types of activity will rest with schools and councils will be looking for a solution that works for them."
"Councils want to ensure that at a time when there is huge pressure for school places that resources are prioritised so that mums and dads know their child will have access to a good school."