Changing face of the school trip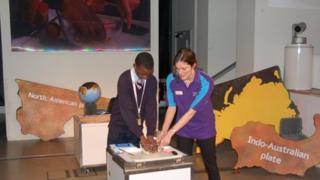 School trips to the museum used to be about queues of children peering into glass cases with their hands behind their backs.
But with an ever-increasing array of educational adventures on offer - such as high-wire assault courses or even a hike up Kilimanjaro, museums are having to up their game.
Beth Gardner, chief executive of Learning Outside the Classroom, says there has been a big cultural change with more schools going on a huge variety of educational trips and experiences.
"Schools are going absolutely everywhere these days. We've got expedition companies that support schools to take a group anywhere in the world - they might go to a developing world country and help a community build a school.
"Others take children on conservation trips involving things like diving and marine conservation. And I know of primary schools that are doing overseas trips, but it obviously depends on the type of school."
With competition from the Great Wall of China and coral reefs, it is hardly surprising that the nation's museums are working harder to attract the excitable classes full of children.
The newly revamped Volcanoes and Earthquakes exhibition at the Natural History Museum is no exception.
It is littered with mechanical interactions showing such things as how to earthquake-proof a building and there are five touchscreens with layered digital content.
One invites children to take control by turning a dial to rearrange the Earth's continental plates so they can see how the world formed over time.
Another shows all the earthquakes across the world in the past seven days and updates every 15 minutes.
Children are invited to touch pieces of rock that came to Earth from outer space and fossils which show how parts of Britain used to be on the equator instead residing in our current cooler climes.
Exhibition developer Alex Fairhead says: "Over the past 10 to 15 years, there's been a move to get more interactive displays and where possible to allow people to touch them and get as close as possible to them.
"In this gallery there's a lot of rocks, and because they're pretty tough - we're not afraid that they're going to break! So it works well."
Programme developer at the museum Sally Collins has a key role in one of the most dynamic ways of engaging children in geology - the lively Rocks the House Show.
"We've got glass cases everywhere and lots of resources in the galleries and staff running meet the scientist sessions in them, but the science show comes out as the number one most popular way that we teach groups of children.
"We want people to have fun while they're here and learning and that's what it is all about.
"It may seem that it's all a bit cheesy, but we do want them to have fun on their special day out."
And the show certainly speaks to youngsters in their own language.
As the children enter the auditorium, sounds of the upbeat Earthquake by Labrinth blast out while on the screen electrifying scenes of fiery lava flow in scenes reminiscent of the Phantom Menace.
A promising geography student, Adam, is invited up on stage to make some custard - a representation of the Earth's crust.
The bowl in which he squishes and squashes the gooey mix in his hands is projected onto a large screen, while his classmates giggle at his embarrassment.
Sally explains how she uses the dynamic of the schools group.
Diving for pearls
"We usually use a teacher volunteer - that's very much a strategy to engage the group, as the teacher is a little bit out of their comfort zone - away from the safety of the classroom.
"We want the children to get a little bit excited about all this and maybe think 'Wow! People do this for a job. Maybe I could do that too?'"
Across the road at the Victoria and Albert Museum, children and their families are being enticed into exhibitions not traditionally aimed at the young with an educational-augmented reality game.
The game, made by Gamar, is effectively a treasure hunt which takes the player around the real world of the Pearls Exhibition gallery with the use of an iPad.
The player navigates the gallery as they seek jewels from different parts of the world to design their own piece of treasure.
Alex Flowers, who leads the V&A's digital programme, says: "Museums have really been trying to open their doors to a wider range of people and offer different ways of opening up their collections and exhibitions and one of these ways is through these sorts of games.
"It's something I believe can transform your experience of being in the museum and put you in the shoes of someone who is diving for pearls and experiencing the world."
During the seven days that the game was live in the exhibition, 2,000 people played - all of them children.
Lee Briggs, creative director at educational game designer Gamar, said: "At times at the V&A we were struggling to get the iPads back!"
Mr Flowers adds: "It's not that children need it to have a good time in the museum, but it's certainly a way to motivate young visitors."
But schools do not have to travel the length of the UK to find somewhere interesting and reasonably priced to go, says Ms Gardner.
"Rather than everybody traipsing to one key place in central London - there may be something just as effective for schools in their local area."